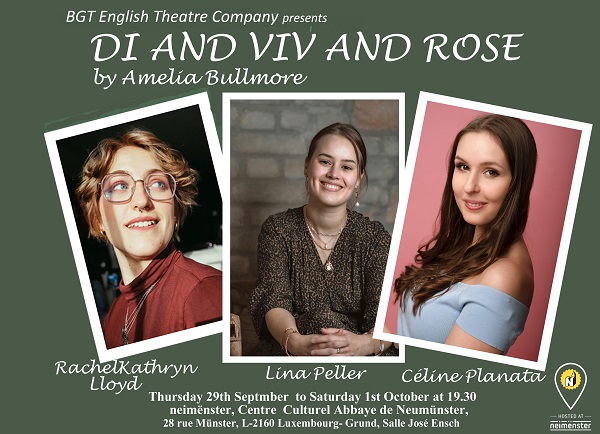 Details:
The BGT English Theatre Company will putt on its next show, "Di and Viv and Rose", at Neumünster Abbey (neimënster) in Luxembourg-Grund from 29 September to 1 October 2022.
"Di and Viv and Rose" is BGT's latest annual English-language showcase play for trainee actors. It follows performances of "Wolves Are Coming For You" (2019), "David's RedHaired Death" (2020) and "The Road to Huntsville" (2021), all of which formed part of this project, the focus of which has since shifted towards showcasing local female talent.
Based on Amelia Bullmore's bittersweet comedy of the same name, "Di and Viv and Rose" follows the intertwined lives and friendship of three women from their late teens into their early 40s.
Aged eighteen, Di, Viv and Rose meet each other during their first term at university. In many ways, the young women are very different, but they become close friends. As time goes on, life throws unexpected obstacles at them, leaving the them to deal with both happiness and tragedy, as well as the consequences of their individual decisions on the others.
Cast
Rachel Kathryn Lloyd (Di) has been involved in various English-language theatre productions in Luxembourg since moving here in 2011. She has worked on several BGT shows in various capacities, including "A Christmas Carol" in 2016, "Best of Men, Worst of Men" in 2020, "The Coronavirus Chronicles" in 2021 and "We Happy Few" in 2021. "Di and Viv and Rose" is her first BGT annual showcase play. Rachel has a Bachelor of Arts and Humanities in Creative Writing and Music and a "Première Mention" with distinction in Opera at the Conservatoire de Luxembourg. She is currently studying at the University of Amsterdam.
Céline Planata (Viv) is a Luxembourgish-American actress who has worked on pieces ranging from Shakespeare's "Romeo and Juliet" to the contemporary play "Permanent Collection". She previously appeared in BGT's first annual showcase play "Wolves Are Coming For You" as well as in two other BGT productions: "The Last Word in Murder" and "Picnic at Hanging Rock". Céline is currently studying at the American Musical and Dramatic Academy in New York and Los Angeles.
Lina Peller (Rose) is a Luxembourgish actress who is currently working in Munich, having graduated in Drama and Sociology from the Ludwig Maximilian University there. She has experience in acting, improvisation and diction, having taken classes in these areas at the Conservatoire de Luxembourg, as well as operating and design experience owing to an internship in Munich. Lina designed the first BGT summer showcase project, "Wolves Are Coming For You", and returned to the stage the following year to co-star in "David's Redhaired Death". In 2021, she performed the one-woman show "The Road to Huntsville", also as part of this BGT project.
Performances of "Di and Viv and Rose" are scheduled to take place in Salle José Ensch in neimënster on Thursday 29 September, Friday 30 September and Saturday 1 October 2022 at 19:30.
Tickets cost €20 (€12 for students) and are available online at www.neimenster.lu.
Venue: Salle José Ensch, neimënster (28 Rue Münster, L-2160 Luxembourg)
Organiser: BGT English Theatre Company
Price: See above
Reservations: See website
URL: For details, see https://www.neimenster.lu/en/events/di-viv-rose/