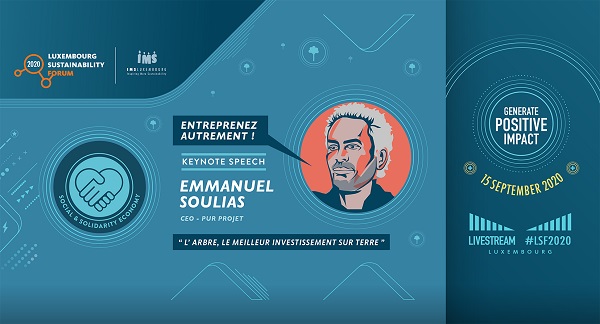 Details:
As Luxembourg's key event on sustainable development cannot be held in public without restricting its accessibility, IMS (Inspiring More Sustainability) Luxembourg has decided to adapt its format: the Luxembourg Sustainability Forum 2020, taking place on 15 September, will be multilingual and broadcast via live streaming.
This week, IMS is unveiling the first part of its programme and a new part will be revealed each week until the summer holidays. The social and solidarity economy will find an important place in the programme, inviting participants to rethink business models and support the necessary resilience of our economy in the face of the crises it is currently going through.
Emmanuel Soulias will open the event with a keynote speech on the PUR Projet initiative, of which he is the CEO. PUR Projet helps companies to restore the ecosystems on which they depend (through agroforestry among others) while enabling local communities to improve their living conditions through long-term projects.
IMS has proposed a new formula to allow as many people as possible to attend conferences, round tables and exhibitions. Initially focused on one afternoon, the Luxembourg Sustainability Forum 2020 will take place throughout the day on 15 September and will be broadcast live on the internet in four languages: French, Luxembourgish, English and German. Far from a simple videoconference, the speakers present in Luxembourg will debate together and the public will be able to interact live.
Each week, discover a new part of the programme on www.imslux.lu. Registrations are already open on: https://imslux.lu/fra/agenda.
Venue: Online
Organiser: IMS Luxembourg
Price: n/a
Reservations: See above