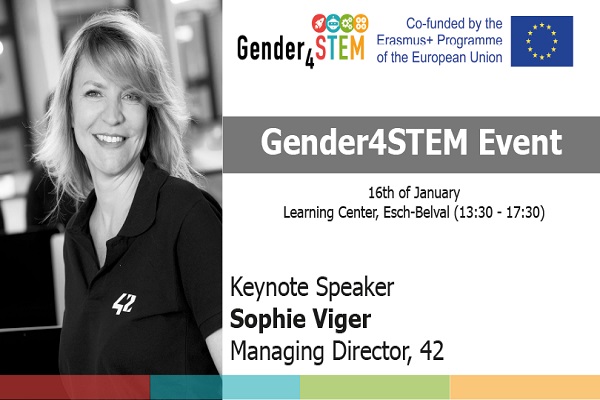 Details:
Women in Digital Empowerment (WIDE) will hold a conference entitled "Improve Gender Sensitivity in STEM Teaching" on Thursday 16 January 2020 at the Luxembourg Learning Centre in Esch-Belval, from 13:30 to 17:30.
This conference is the closing event of WIDE's Erasmus+ project and will feature Sophie Viger, Managing Director of 42 in Paris, as a keynote speaker. She will introduce the strategy of this innovative coding school and how they attract more girls and women in their programmes.

During this event, WIDE will present the Gender4STEM platform with its "teaching assistant" that aims to improve gender sensitivity in teaching methods. Teachers and experts involved in this Erasmus+ project will also share their insights about the platform during a panel.
This session will be followed by a networking cocktail.
This event is organised by WIDE and the Luxembourg Institute of Science and Technology (LIST), in collaboration with IFEN.
Register for free at https://www.eventbrite.com/e/gender4stem-event-tickets-68155961315.
Venue: Luxembourg Learning Centre in Esch-Belval
Organiser: WIDE; LIST
Price: Free
Reservations: See above