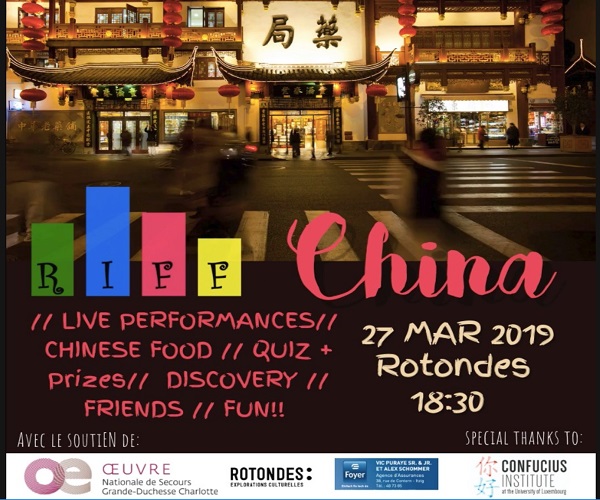 Details:
The RIFF Luxembourg China-themed cultural workshop will take place at Rotondes on Wednesday 27 March 2019, starting at 1830.
The second RIFF workshop of 2019 will centre around China, home to a beautiful culture that has fascinated the western world since the time of Marco Polo.
The event, organised in collaboration with the Confucius Institute at the University of Luxembourg, will feature a quiz, various artists and associations and some traditional cuisine, thus allowing participants to discover the Chinese culture in a fun way.
Tickets cost €17 online (pre-sale until midnight on 26 March) or €20 at the door and can be reserved at https//rotondes.lu/agenda/details/event/riff-china. Places are limited. Food and entertainment are included in the price.
Venue: Rotondes
Organiser: RIFF Luxembourg
Price: €17/€20
Reservations: https://rotondes.lu/agenda/details/event/riff-china