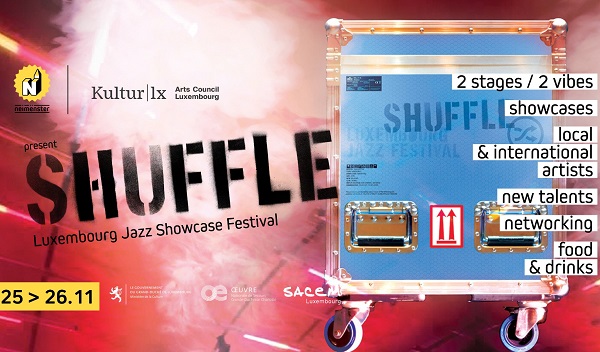 Details:
From Friday 25 to Saturday 26 November 2022, "Shuffle", the main showcase festival in Luxembourg, will offer artists an opportunity to meet their listeners.
Formerly called "Luxembourg Jazz Meeting", Shuffle is today a platform for exchange and a springboard for artists from the Luxembourg jazz scene. It is organised every two years by the Centre Culturel de Rencontre Abbaye de Neumünster (neimënster) in partnership with Kultur | lx - Arts Council Luxembourg.
This is a showcase festival for jazz musicians who share the stage with foreign groups invited as part of artistic exchanges. For this edition, neimënster and Kultur | lx are also inviting emerging jazz bands to complete the festival lineup.
Traditionally reserved for professionals, neimënster and Kultur | lx are opening the festival to a wider audience. During two exceptional evenings, musicians will have the opportunity to present their compositions in front of a panel of national and international music professionals, who may potentially open doors for them to the international market.
In order to ensure these possibilities of dissemination, identification and international visibility, Kutur | lx will organise a networking session that will allow artists to meet the foreign delegation. Kultur | lx will also offer them a workshop on the jazz market in France (registration required).
Shuffle will take place on 25 and 26 November (both days from 18:00) in Salle Robert Krieps at neimënster in Luxembourg-Grund. Tickets cost €25 per day (€1.50 with a Kulturpass) or €40 for a two-day pass. Further information and tickets: https://www.neimenster.lu/en/events/shuffle/.
Venue: Centre Culturel de Rencontre Abbaye de Neumünster (28 Rue Münster, 2160 Luxembourg)
Organiser: neimënster
Price: See above
Reservations: See website
URL: For details, see https://www.neimenster.lu/en/events/shuffle/