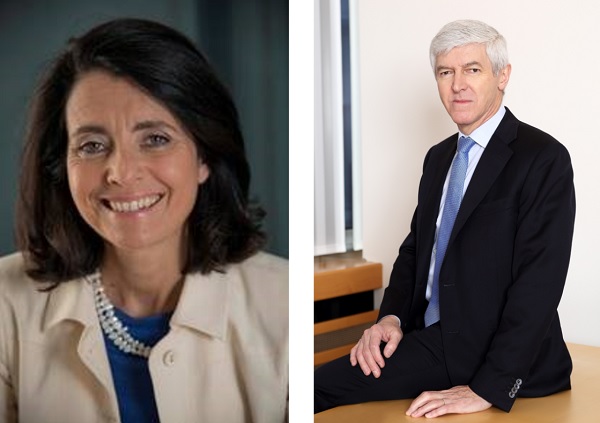 Details:
The Institute for Financial Integrity and Sustainability (IFIS) is organising a hybrid conference and lunch with Béatrice Belorgey and Etienne Reuter from BGL BNP Paribas on Monday 16 May 2022 from 12:30 to 14:00.
Béatrice Belorgey, Chair of the Executive Committee of BGL BNP Paribas and Country Head of the BNP Paribas Group in Luxembourg, and Etienne Reuter, Chairman of the Board of BGL BNP Paribas, will address the topic: "Financial Services and Positive Impact: The bank and its clients in transition to a more sustainable economy".
Participants have the choice of attending this event either remotely (Zoom link provided upon registration) or in person at Cercle Munster in Luxembourg-Grund.
The cost of this event (including lunch) is €55 per person for IFIS members and €85 for non-members, to be paid in advance to the IFIS bank account: BCEELULL LU06 0019 3055 2757 2000 or at the event itself via Sumup (€2.50 transaction fee). Participation via Zoom costs €25 for members and €50 for non-members, to be paid prior to the event.
To register for this event, visit: https://www.ifis.lu/events-1/virtual-face-to-face-conference-lunch-with-beatrice-belorgey-etienne-reuter-bgl-bnp-paribas or send an email to: events@ifis.lu.
Speakers
As a graduate of the Institut d'Études Politiques de Paris and a Certified European Financial Analyst (CEFA), Béatrice Belorgey began her career at BNP Paribas in 1986 as a credit analyst in Retail Banking in France. In 1989, she joined Corporate & Investment Banking (CIB) within the Fixed Income and later Corporate Finance (Banking) teams. In 2000, she moved to Wealth Management as Head of the Financial Product Range and Advisory Desk of the private bank in Luxembourg. In 2005, she was named Head of the Group's Financial Information department and then, in 2009, she took over responsibility for the Group's Investor Relations and Financial Information departments. Between 2013 and 2020, Ms Belorgey was Head of BNP Paribas Banque Privée France. Since 2020, she has been Chair of the Executive Committee of BGL BNP Paribas and Country Head of the BNP Paribas Group in Luxembourg.
After graduation from the University of Louvain and obtaining an MBA from the University of Chicago, Etienne Reuter was, as of 1981, in charge of the foreign trade department at the Luxembourg Chamber of Commerce. He then joined Arthur Andersen to become a partner of the Business Consulting Division. In 1995, he joined Luxembourg's Ministry of Finance and was nominated Government Commissioner at Banque Internationale à Luxembourg (BIL) until 2000. In 1996, he headed an economic interest group to study the reconversion of different former industrial sites of the steel industry. In 2000, Mr Reuter was named Chairman of Agora, a public-private development company in charge of the reconversion of Esch-Belval. At the Ministry of Finance, as Premier Conseiller de Gouvernement and later as Secretary General, he was in charge of different areas and represented the Luxembourg State in different companies. He has been Chairman of the Board of BGL BNP Paribas since 2014. From 2017 until his retirement in 2021, he was Director of the Inspection Générale des Finances.
Venue: Cercle Munster (5-7 Rue Münster, 2160 Luxembourg)
Organiser: IFIS
Price: See above
Reservations: See above