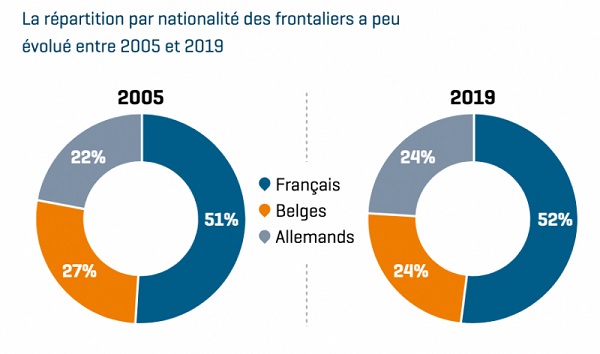 Credit: STATEC
In a report published on Tuesday, STATEC confirmed that there were 200,721 cross-border workers employed in Luxembourg in 2019.
Last year, the number of employees residing in Luxembourg but working in its neighbouring countries (13,159) was significantly lower than that of cross-border workers employed in the Grand Duchy (200,721). STATEC clarified that 88% of outgoing cross-border workers worked for international institutions, with those remaining actually commuting to France, Germany or Belgium for work.
According to the report, French residents represented more than half (52%) of cross-border workers in Luxembourg between 2005 and 2019. Whilst the number of German residents working in Luxembourg increased from 22% to 24% over this period, that of Belgian residents fell from 27% to 24%.
The average annual salary received by incoming cross-border workers varied according to their country of origin. In 2019, French cross-border workers received around €10,400 less per year than their Belgian colleagues and almost €8,700 less than their German colleagues. According to STATEC, this gap reflects a certain "specialisation" of cross-border workers in sectors characterised by salary differences.
In 2019, international organisations in Luxembourg employed a total of 14,994 people, of which 11,586 resided in Luxembourg. The remaining 3,408 employees lived abroad (Germany, France and Belgium). As these employees reside abroad and work in extraterritorial organisations, their remuneration flows are not considered in Luxembourg's balance of payments.
The compensation of cross-border workers created a deficit of €10.3 billion in the balance of payments, although the social contributions received exceeded the social benefits paid to non-residents by €154 million for the same year. Not counted as social benefits were unemployment benefits paid to residents of neighbouring countries, which amounted to €39.7 million, and financial aid to students residing abroad, amounting to €26.7 million in 2019. STATEC added that the number of active cross-border workers continued to exceed that of retired cross-border workers.
The report also revealed that Switzerland, Germany and the Netherlands each employed more cross-border workers than the Grand Duchy in 2019.