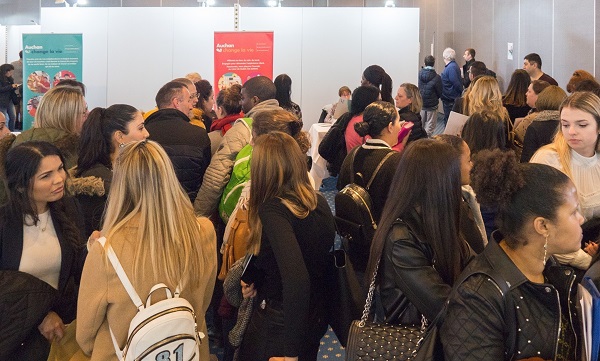 Credit: ADEM
Over 900 jobseekers attended today's Job Day for positions at the new Cloche d'or shopping centre in Luxembourg.
The recruitment fair, organised by the Employment Development Agency (ADEM) and the EURES network, brought together 35 businesses and some 900 jobseekers.
The morning was reserved for jobseekers registered at the ADEM while in the afternoon, the doors opened to the general public and all those looking for a new professional challenge. The businesses present were shops and restaurants from the Cloche d'Or shopping centre, scheduled to open in May 2019. They sought a range of profiles from sales consultant to cashier or all trades related to the gastronomy sector. In total, there were more than 700 available positions.
Also present at the fair were Isabelle Schlesser, Director of ADEM, and Dan Kersch, Minister of Labour, Employment and Social and Solidarity Economy. Both spoke about the importance of this type of initiative. For her part, Isabelle Schlesser commented: "This is the most important Jobday organised by ADEM and EURES this year in terms of the number of participants". Minister Dan Kersch added: "Events like this Job Day allow people who are looking for a job to get in touch with employers directly".