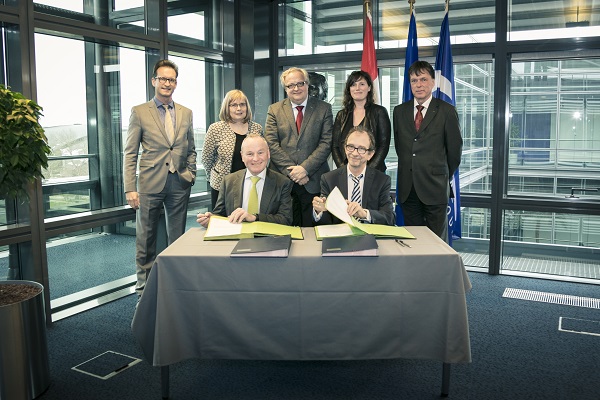 On Monday 19 February 2018, a collaboration agreement was signed between the House of Training, ISEC and FUN-MOOC, one of the major players in e-learning.
Even though e-learning made its first appearance in the 80s, it has largely changed its face with the new communication technologies that make it possible today to use it both wider and more targeted. If this form of distance learning has undeniable advantages in terms of flexibility (training when and where you want, reduced costs, ...), experience has shown that, in order to gain maximum benefit, e-learning should ideally be situated in a more global context and be framed. In these conditions, online training now offers attractive opportunities and opportunities for continuing vocational training.
These are the considerations that led the House of Training and the ISEC to open their doors to e-learning, by partnering with a renowned partner in this field, namely FUN-MOOC, operator of the FUN platform (France), a Digital University in France. With more than 100 partners in France and around the world, including higher education institutions, sectoral training institutions and French public institutions, FUN is the largest French-speaking e-learning platform and now has a growing success, already approaching the 4 million registrations.
Concretely, online courses can be used in 3 different ways: First, they are accessible to individuals and businesses in Luxembourg who wish to flexibly acquire knowledge on a given topic. This "à la carte" offer can meet targeted and isolated training needs. Then, e-learning courses can be used, optionally, upstream of a training, to ensure the upgrading of the knowledge of the learners and thus a greater homogeneity of the class. And finally, some e-learning modules, based on innovative and modern techniques, will be used to become part of a training.
In order to make a selection that is relevant to the needs of Luxembourg companies as well as to the offer of face-to-face courses, the House of Training is currently reviewing all the courses offered on the FUN platform. If a large part of these courses present "generic" content and can therefore be used independently of the country of residence, the House of Training and the ISEC have set themselves the task of adapting certain contents to the specificities of Luxembourg so that the formations reflect local realities. Courses selected and presented on the dedicated House of Training / ISEC platform will be linked to existing courses, including those focused on business leaders and training designed for specific sectors.
The goal of this expanded e-learning offer is therefore not to replace face-to-face training, but rather to supplement it with modern, flexible and easily accessible tools. The results of online training will be documented by certificates integrated in the courses of participants of the House of Training / ISEC.
As for the timing, the provision of the Luxembourg gateway to the FUN portal is planned for the month of October with, at least, a hundred or so courses accessible from the start. In the long term, this portfolio will have to develop considerably by offering specific content for different sectors of the Luxembourg economy.​