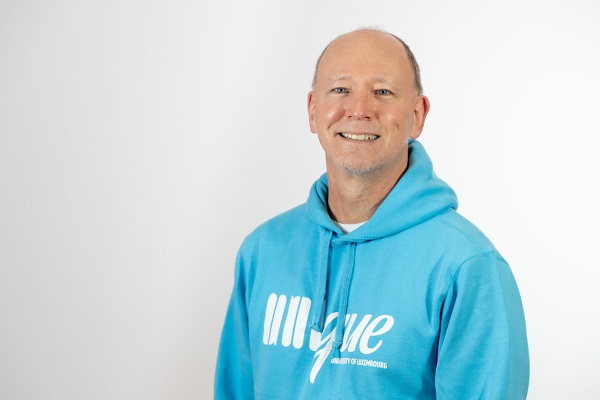 Andy Adams, Alumni Relations Senior Specialist at the University of Luxembourg; Credit: Uni.lu
Chronicle.lu recently reached out to Andy Adams, Alumni Relations Senior Specialist at the University of Luxembourg, to learn about the new "Alumni Network", which officially launched at the end of last year.
The Alumni Network is a way for recent graduates of the University of Luxembourg to connect and stay engaged with one another and with the university as well as to give back to their alma mater in various ways. One such way is through the Class Fund: for every registration to the network and for every response to the Graduate Survey, the University of Luxembourg will donate €5 to this fund for students in financial difficulty the following year. The recipient(s) of this fund is determined directly by the Student Delegation.
Based on a "pyramid of engagement", with student life (associations) at the top, academic life (faculties and interdisciplinary centres) in the middle and the university itself at the bottom, the idea is also to engage members of the University of Luxembourg's community at different levels to spread the word and help the network grow.
An integral part of this network is the GradPack which offers new graduates various discounts and special offers both within the university (such as the Confucius Institute) and with the growing number of external partners of the Alumni Network, such as the British Chamber of Commerce (BCC) for Luxembourg, The NETWORK, Paperjam and Delano, among others.
Speaking to Chronicle.lu, Andy Adams elaborated on the role of this new network and what it offers alumni of the University of Luxembourg.
Chronicle.lu: Could you please share the motivation behind developing University of Luxembourg Alumni Network and how it is supported by the university?
Andy Adams: The University of Luxembourg will soon be 20 years old and our first graduates are well into their careers. Our main mission as a university is to prepare our students for success in their professional lives. Since we didn't have an alumni network in the past, we didn't have much visibility on what our alumni were doing and whether our mission was successful or not beyond graduation. Building an alumni network will create a lifelong link between the university and our alumni.
Chronicle.lu: When did the University of Luxembourg Alumni Network officially launch?
Andy Adams: We launched at the end of 2021, initially focused on our new graduates.
Chronicle.lu: How many alumni are currently registered in the network? What are your expectations in terms of future alumni membership?
Andy Adams: We are nearing 400 registered members. Starting from scratch, we literally have no expectations in terms of numbers over the longer term, but we do know that there are over 13,000 overall alumni.
Chronicle.lu: What are the main topics and goals of the Alumni Network?
Andy Adams: As the university continues to grow, both in numbers of alumni and reputation, we want our alumni to become ambassadors for the university. For that to really happen, we have to maintain and build a relationship with our alumni after their time as students comes to an end. They only spend a couple of years as students but will be alumni for their entire lives and the alumni network, through a mix of professional and social events, will be the way we build and maintain that relationship.
Chronicle.lu: Please explain the concept behind the GradPack and how this has helped alumni graduates.
Andy Adams: The GradPack is a professional starter package of discounted networking memberships and subscriptions which new graduates get access to after registering for the alumni network. The concept is simply how can we best help our new graduates as they start their professional careers? We did a classic SWOT analysis and one of the key strengths that we have is Luxembourg itself. Many of our graduates coming from abroad want to find a job and stay in Luxembourg after graduation and we thought we could help them with that.
I spent a long time in the financial sector and was impressed with how easy it is to network in Luxembourg, as long as you have access to the different networking organisations. With more than 50% of our students coming from abroad, that strength was something we thought would be a win-win for our alumni and for networking organisations in Luxembourg, who are always looking for new members, especially younger ones.
In addition, we have extended access to some of the university's services to alumni, such as the Career Centre, which had previously stopped when students graduated. Graduates also get discounted access to courses offered by the Confucius Institute and the Competence Centre. We are also just about ready to launch alumni email addresses.
Chronicle.lu: Which tools are you using to reach out to University of Luxembourg alumni and what are your future plans to further strengthen outreach?
Andy Adams: We recently launched a new LinkedIn page which will allow us to better interact with our alumni in their professional lives. We will shortly be launching an online store for both alumni and uni.lu merchandise, which will help build the sense of belonging so important to every part of the uni.lu community.
Later this year, we will be launching an alumni portal, where all alumni activity will happen, from registration to events and newsletters, groups, mentoring, a jobs board, and hopefully an alumni marketplace, where alumni can promote their businesses and services to each other.
Chronicle.lu: What have been the main challenges so far to expand the Alumni Network?
Andy Adams: The main challenge is that creating an alumni network from scratch is like eating an elephant, it can't be done all at once. There is so much to do but we are taking a step-by-step approach to make sure that we build a sustainable, in terms of lasting, foundation for the future.
Chronicle.lu: Is there a plan to hold in-person events for the Alumni Network? If yes, when and where will these take place?
Andy Adams: Since September, we have been working closely with the different academic programmes to support events where alumni come back to talk to existing students about their career paths. We are currently working with the Student Delegation to organise an event in early July to celebrate the end of the exam period for current students and the last-ever exam period for 2022 graduates. Our first in-person alumni only event will take place this [autumn].
Further information about the University of Luxembourg Alumni Network is available online at https://wwwen.uni.lu/alumni/ and https://www.linkedin.com/showcase/university-of-luxembourg-alumni-network/