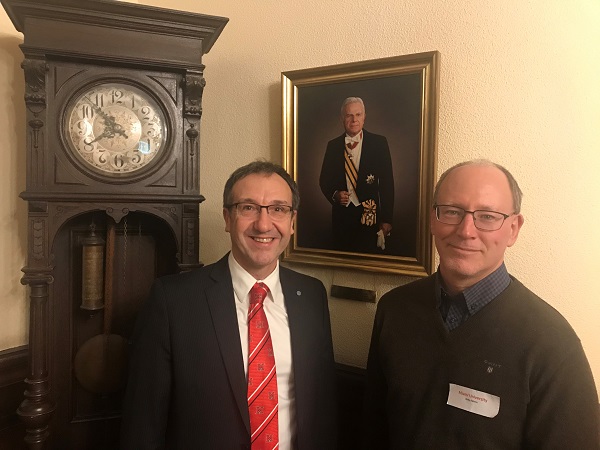 MUDEC Celebrates Thanksgiving; Credit: (L-R): Thierry Leterre, Dean at MUDEC; Andy Adams, Coordinator of Communications and Student Engagement at MUDEC
On Thursday evening, the Miami University (Ohio) Dolibois European Center (MUDEC) hosted its annual Thanksgiving Dinner, with almost 130 students, faculty members, corporate guests and business partners, as well as students from the University of Luxembourg in attendance.
Thierry Leterre, Dean of the John E Dolibois Business Centre, welcomed all the attendees to the main hall of Differdange chateau and recalled how he has celebrated Thanksgiving since linking up with the university.
One of the students, Elizabeth Bode, a member of MUDEC's Student Faculty Council, addressed the hall and gave thanks for the opportunity to be able to study abroad. She also recalled traditions she and her family practiced when celebrating Thanksgiving at home.
The Thanksgiving dinner comprised roast turkey with cranberry sauce, mashed potato and sweetcorn, with pumpkin pie for dessert.
The evening also involved tasting Beaujolais Nouveau for corporate guests.
MUDEC has been based in Differdange since 1997 and around 100 students enroll in the programme each semester, along with around 40 during the summer programme.