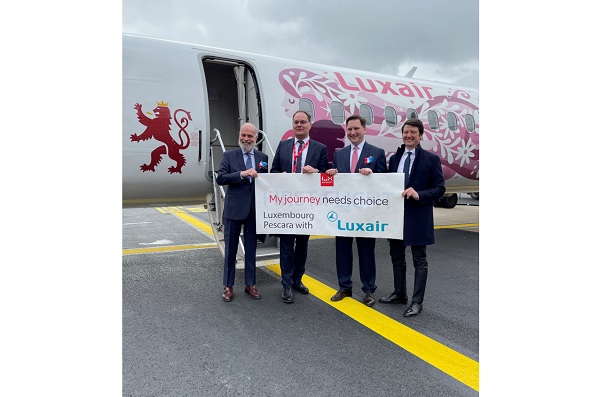 Credit: Luxair
Luxair has announced that its first flight to Pescara departed Luxembourg Airport on Monday 27 March 2023.
In September 2022, Luxair announced that it would be adding Pescara to its list of destinations for the summer 2023 season. Now, Luxembourg and the Italian city are connected with a two hour and ten minute flight, twice per week.
Luxair's Q400 took off on Monday afternoon for the first time towards Pescara, marking the beginning of the airline's regular service to the Abruzzi region. To mark this occasion, Luxair held a small event, in collaboration with lux-Airport (the company who manages the infrastructure of Luxembourg airport), at Terminal B and addressed the passengers of this first flight.
Right before the flight and to inaugurate this route, the passengers were able to taste Italian delicacies and Prosecco, offered by lux-Airport, all while taking pictures and listening to the official opening speeches of Thomas Fischer, Luxair Chief Commercial Officer, and Alexander Flassak, lux-Airport CEO.
Vice President of the Abruzzi region, Emanuele Imprudente, Abruzzi Airport Director Vittorio Catone and other representatives welcomed the flight upon its arrival in Pescara. An inauguration ceremony followed, with speeches, toasts and a traditional water salute at the arrival of the aircraft.
Luxair's flights to Pescara will operate twice a week, on Mondays (LG6723 Luxembourg-Pescara, 12:45-14:55 and LG6724 Pescara-Luxembourg, 15:35-17:50) and Fridays (LG6723 Luxembourg-Pescara, 06:00-08:10 and LG6724 Pescara-Luxembourg, 08:55-11:10).
"We are pleased to be able to expand the offer of Abruzzi Airport connections by adding Luxembourg. The summer season, which officially starts today, opens with good news that will offer many opportunities for growth in terms of incoming for our region, considering that in Luxembourg there is a large community of Abruzzi people who will be able to take advantage of returning to their places of origin. We aim even higher this year and this link will help us along this path. Luxair has chosen to focus on Abruzzi Airport due to its geographical strategic position and this can only produce positive implications for our entire territory," commented Vittorio Catone, Abruzzi Airport Director.
"Today, Luxair is proud to officially launch its direct flights between Luxembourg and Pescara. We are delighted to add a fifteenth destination in Italy, thus even better serving the Italian community in Luxembourg, who is a cosmopolitan country with a large community from the Abruzzi region, where Pescara is situated. As a high quality niche player, we believe in the potential of this new route!" said Thomas Fischer, Luxair Chief Commercial Officer.