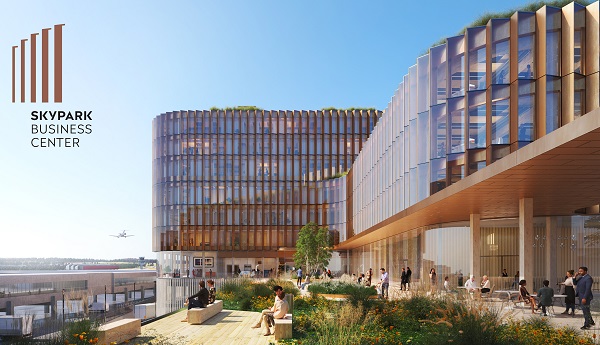 Skypark Business Center plaza; Credit: lux-Airport
Lux-Airport, the operating company of Luxembourg Airport, has confirmed the future arrival of Moxy Hotel, a group member of Marriott International, at the new Skypark Business Center.
As the Skypark Business Center continues to take shape, news about the hotel located there has come to fruition. The new Moxy Hotel Luxembourg Airport will offer 130 rooms with a unique view over the airport, an open-air terrace and a central Moxy Bar serving as a front desk.
The Moxy Hotel Luxembourg Airport will be connected directly to the airport terminal via an indoor walkway from the Skypark Business Center. The opening date is scheduled for the first half of 2024.
Moreover, the Moxy Hotel will be well connected with the Luxembourg tram airport connection, which is a short distance from the Luxembourg Airport terminal and is also foreseen to arrive in 2024.
"The Moxy concept perfectly fits our promise to passengers to combine comfort, quality and sustainability at our airport and the future Airport City", stated Alexander Flassak, CEO ad interim at lux-Airport. "We are proud to have Marriott International with the Moxy brand on board as an experienced, innovative partner. Leisure or business travellers will appreciate this new hotel".
"It is unique to set [up] a hotel in such a great environment as the airport. Luxembourg Airport is special, and the entire Skypark Business Center is an incomparable spot in terms of location, view, innovation, and sustainability. We are more than pleased to be part of this", added Tim Zeichhardt, Senior Director of Development of Marriott International.
The Skypark Business Center is the first visible milestone of "Airport City", a major development surrounding Luxembourg Airport. The state-of-the-art building has taken great strides in construction. The Skypark Business Center is set to create a reference building for sustainability and environmental awareness – it uses timber construction methods intended to reduce the development's carbon footprint and a series of other devices and smart technologies that ensure the scheme's sustainability.