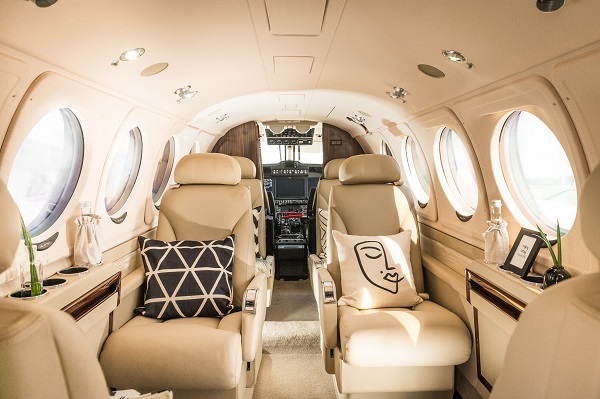 Credit: FLYER
The Luxembourg-based FLYER has announced its entrance into the business aviation market as a new player for chartered flights.
With the launch of this service, the FLYER aims to bridge the gap between commercial travel and business aviation.
The FLYER service consists of a fleet of brand-new turboprop aircraft strategically placed across Europe to help answer the needs of clients looking for a safe and convenient way of travelling Europe for business or private purposes. The new service is aimed at offering the high standards of business aviation at an economically affordable rate.
Robert Fisch, Managing Director of the FLYER, explained: "During the lockdown in April last year and as we were anticipating long-term travelling habit changes, we were seeking to find a solution for travellers who were concerned about safety and for making business aviation more accessible. It was at this moment that the FLYER concept took shape which combines the accessibility of scheduled airlines with the flexibility of private aviation".
The FLYER portfolio consists of a fleet of minimum four new Beechcraft King Air 250 and 260 aircraft based in Belgium, Luxembourg and France, of which two aircraft have already been delivered to Luxembourg. The King Air 250 is the first of its kind in Luxembourg and the youngest generation of the King Air series, of which 7,000 have already been produced.
The 250 model features sophisticated avionics as well as upgraded Pratt & Whitney Canada turbine engines capable of operating at higher altitudes than previous models with significantly lower fuel consumption. It will carry six people at speeds comparable to those of a jet aircraft and is capable of operating from smaller airports. Its ability to use aerodromes with runways between 1,000- and 1,500-metres long opens up 425 new destinations for Luxaviation customers in Western Europe alone.
According to the team behind the service, the FLYER aims at being both price competitive and maintaining the highest standards. The aircraft are being operated under the AOC of Luxaviation Luxembourg on behalf of its ownership and will undergo the same scrutiny as any other Luxaviation Group-owned operation with equivalent management system and operational control.
The turboprop solution should limit the impact on the environment by having a consumption of 30% less than its jet competitor while offering more capacity. Similarly, the carbon print is reduced by the possibility to use smaller airports closer to the final destination while only needing six minutes more flight time per flight hour than a comparable jet.
The FLYER has also partnered with a Luxembourg bank to offer a competitive financing solution to investors combined with a user package.
The FLYER app can be downloaded for IOS and Android. Further information is available at www.lxaflyer.com.