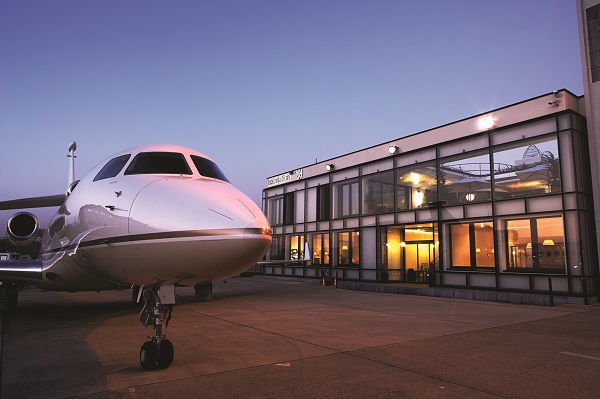 Credit: Luxaviation
Luxaviation Group, one of the world's largest private aircraft operators headquartered in Luxembourg, announced today the acquisition of a VIP terminal at Europe's leading business aviation airport Paris-Le Bourget.
Luxaviation Group has acquired the Paris-Le Bourget VIP Terminal (FBO) from Aéroports de la Côte d'Azur (ACA) Group; the terminal is handled by ACA's Sky Valet France company.
Patrick Hansen, CEO of Luxaviation Group, explained: "With the acquisition of the prestigious Paris-Le Bourget VIP Terminal, we are able to further grow our 26 strong VIP Terminal network under our ExecuJet Brand, and provide our clients with an unrivalled full-service ground handling in an unparalleled location. We continue to focus on our core aviation services and further concentrate on innovation and expansion. As a group, we are determined to drive the curve and to invest worldwide into the sector's development".
In 2019, Sky Valet Paris-Le Bourget has managed over 6,000 business aircraft movements representing 12% market share. Sky Valet is a brand owned and managed by ACA. In France, the brand operates in Cannes, St Tropez and Paris-Le Bourget. ACA manages 22 FBOs in France, Spain and Portugal and seven additional independent locations through its marketing and sales partnership Sky Valet Connect. Sky Valet Paris-Le Bourget manages its own terminal with secured car parking, a security filter and a ramp area.
Dominique Thillaud, President of the Board of ACA, commented: "After five years of continuous growth and having achieved a market share of 12%, we are pleased with the finalisation of this sale contract to Luxaviation Group which will extend the efforts and good results Sky Valet Paris-Le Bourget. The dynamism of this VIP Terminal at one of Europe's leading business airport can only contribute to the dynamism of our remaining FBO activities, in France and in Europe".
Karol Gueremy, CEO of Luxaviation France and Portugal, added: "We are looking forward to welcome the 15 experienced colleagues of SkyValet France in our Luxaviation team in Paris. Their recognised excellence matches the high-level service spirit of Luxaviation throughout the Group and increases our service offering".
Karol Gueremy will be supervising the team of this newly acquired VIP terminal in Paris.