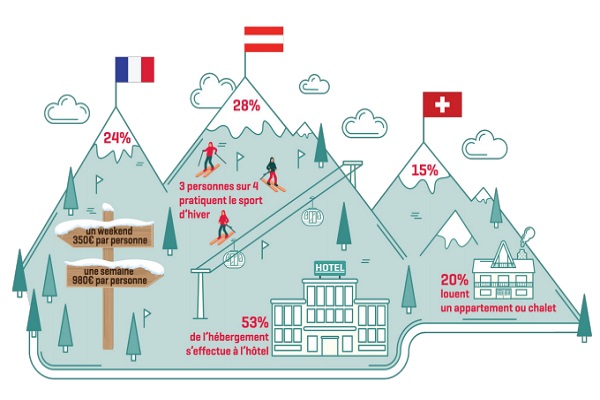 Credit: Statec
Austria is the preferred skiing destination for Luxembourg nationals, according to a new tourism study by Statec.
The study revealed that one in ten Luxembourg residents take winter ski trips, almost half of which (47%) last one week. These trips cost on average €980 per person, including accommodation, meals, transport and various activities. Meanwhile, 20% of residents leave only for an extended weekend and spend about €350 per person.
Of all tourist trips made during the first quarter of the year, 22% were in the mountains, compared to 10% in 2017. 73% of residents who undertake such trips between January and March stated their reason as practising winter sports, whilst the others go for relaxation. During these stays, the main accommodation used were hotels (53%), compared to 20% who prefer to rent an apartment or a chalet. Austria has come out as the preferred destination (28%) for such trips, followed by France (24%) and Switzerland (15%).
During the winter season, 23% of residents leave to visit family or friends, with whom they usually stay during their trip (65%). These visits typically last only a short time of 2 to 4 days (44%). At this time of the year, family or friend visits mostly take place in neighbouring countries, namely France (20%) and Germany (14%), as well as Portugal (13%).
Nevertheless, according to figures from the 2017 tourism survey, winter is the least favorable quarter for travel with 44% of the resident population going on holiday, compared to 70% between July and September, the most popular period, 53% between April and June and 49% between October and December. The most frequently chosen destinations are Spain (20%), France (15%), Portugal (12%) and Germany (11%) and the most popular accomodation choice is a hotel.