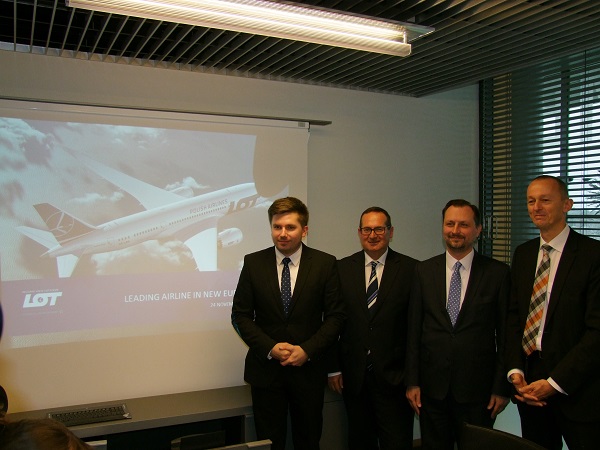 LOT Polish Airlines have announced that it will commence regular flights between Luxembourg and Warsaw from 1 March 2016, with a 2-hour flying time, in a code-share with Luxair.
At a press conference at Luxembourg Airport on Tuesday morning, Adrian Kubicki, acting spokesperson for LOT Polish Airlines, and Joahn Vanneste, CEO of Luxembourg Airport, announced details of the new route which will be operated in codeshare with Luxair.
Johan Vanneste said that he was delighted to announce the 3rd new airline to serve Luxembourg aitport withing the last month, with the other two being HOP! AirFrance and Aegean Airlines. The total number of destinations offered by Luxembourg airport is now 69.
Polish Ambassador to Luxembourg, Bartosz Jalowiecki, stated that he is delighted that the new route is being launched and said that the embassy has lobbied for it for a while. He also thanked the Luxembourg Polish Business club (LPBC) for their support in seeing this project through. He added that Poland has not suffered a recession and is one of the fastest-growing economies in the EU and is still a place in which to invest; he also hopes that Poland will be applying for a place in the G20 in a few years' time.
Alberto Kunkel of Luxair stated that he is delighted with the codesharing agreement for the Luxembourg-Warsaw route and acknowledged that Luxair is currently exploring how Luxair can also offer codesharing on other routes through Warsaw in the future.
Adrian Kubicki of LOT Polish Airlines revealed that flights between the two cities will operate 6 times/week using Embraer E170/175/195 jets with 4 seats abreast, for a capacity of 72 seats. He explained that this new route is part of the airline's strategy to develop Warsaw as a hub with around 60 destinations at present. Currently long-haul destinations include North America and China, with Japan scheduled for 2016. The airline flies a number of different aircraft including the Boeing 787-8 Dreamliner to long-haul destinations.
SCHEDULE
Warsaw - Luxembourg: 07:30 - 09:30 (Mon - Thu)
Warsaw - Luxembourg: 14:30 - 16:30 (Fri & Sun)
Luxembourg - Warsaw: 10:10 - 12:05 (Mon - Thu)
Luxembourg - Warsaw: 17:05 - 19:00 (Fri & Sun)
Return flight costs start at €153.10.
For further details, including reservations, see www.lot.com.
Photos by Geoff Thompson (top, L-R): Adrian Kubicki of LOT Polish Airlines, Alberto Kunkel of Luxair; Bartosz Jalowiecki, Polish Ambassador; Johan Vanneste of LuxAirport; (below): Adrian Kubicki of LOT Polish Airlines