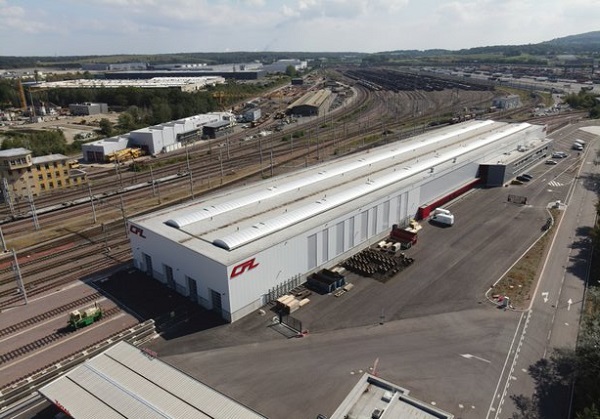 New maintenance workshop at Bettembourg; Credit: CFL multimodal
On Monday 18 October 2021, the CFL group held the official inauguration of the new workshop and the secure truck stop (CRS) in Bettembourg in the presence of Luxembourg's Minister of Transport and Public Works, François Bausch.
Located on the terminal and marshalling yard, the new maintenance and repair workshop will reduce rolling stock downtime and improve the availability of the wagon and locomotive fleet. For its part, the CRS, exclusively reserved for users of the Eurohub South Logistics Park and the Intermodal Terminal, offers secure parking spaces and a set of essential services for carriers.
Marc Wengler, CEO at CFL, welcomed the guests and underlined the interest and importance of this new site, complementary to existing activities. He stated "The inauguration of the CRS and of the new workshop marks a new stage in the implementation of the one-stop-shop concept that we have developed on the Bettembourg-Dudelange site. Our goal is to offer essential services for users of the Terminal and the Logistics Park, road hauliers, intermodal train operators and railway companies, and to give them good reasons to use the Bettembourg-Dudelange site to organise their European logistics activities."
Laurence Zenner, CEO at CFL cargo, underlined in her speech "With more than 150 years of experience, CFL technics, a subsidiary of CFL cargo, has made a name for itself in the railway sector with its maintenance workshops and its expertise in wagon safety devices. Investments in a new and fourth location and in innovative technologies guarantee customers efficient rolling stock, with which sustainable rail transport can be operated. To do this, CFL technics aims for quality and speed at the heart of freight activities by carrying out repairs to wagons and locomotives in the immediate vicinity of the Terminal of Bettembourg-Dudelange and the marshalling yard."
Minister Bausch emphasised the importance of rail at European level, stating "The Luxembourg State has invested continuously in recent years in the development of the infrastructure. We are indeed convinced that an efficient rail infrastructure on Luxembourgish territory, and more generally in Europe, is essential to the modal shift from road to rail and to the fight against global warming."
After cutting the ribbon, the approximately 100 guests were invited to visit the workshop spanning 7,000 m2, three working lanes with a length of 200m and equipped with a pit and two overhead cranes.
This new workshop provides curative maintenance and repair to rail freight wagons, hydraulic diesel locomotives that operate on the primary network, as well as new Bombardier MS3 electric locomotives. The workshop also has particular expertise in the maintenance of Modalohr technology wagons.
On the adjoining CRS, 300 secure parking spaces are available 24/7 for users of the Intermodal Terminal and the Logistics Park. The new area includes a petrol station, a truck wash, a store with a fast food restaurant as well as sanitary and fitness facilities and a laundry service.