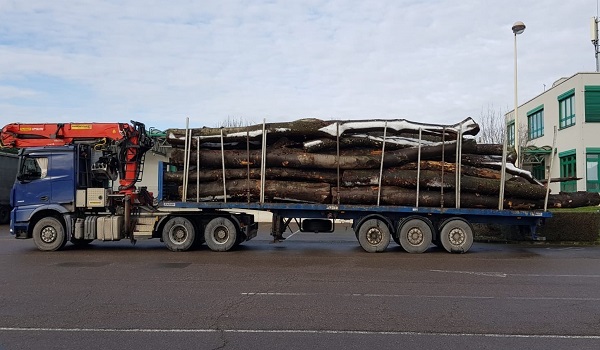 Credit: Customs and Excise Agency
In January 2021, as part of its activities in the field of road freight transport, Luxembourg's Customs and Excise Agency has carried out 210 checks on 59 lorries.
These checks resulted in 103 fines being issued for one or more serious infringements.
In one particular case, during a check carried out in cooperation with the SNCT technical inspection body, customs officers intercepted a lorry loaded with wood, which showed clear signs of non-compliance with several applicable laws.
The officers discovered that the lorry's load was 1.48 tonnes over the limit and 3.5 metres over the legal length. In addition, the load itself was not properly secured, two tyres did not conform to regulations and the trailer was no longer in good working order.
Moreover, the vehicle's Eurovignette was no longer valid and the lorry driver was not authorised to transport timber.
In addition to the offences noted by customs officers, SNCT experts noted a crack in the front tailgate, a rim that was not properly fixed and brakes that were in poor condition, broken or even non-existent.
Following these findings, the lorry driver received a fine amounting to a total of €1,879. For safety reasons, the vehicle was immobilised until all the noted defects could be fixed.