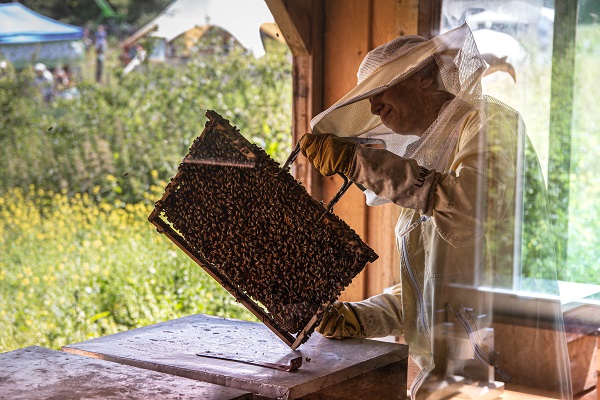 Nature Festival; Credit: Tom Schmitz
On Saturday 17 June from 14:00-21:30, as well as on Sunday 18 June from 11:00-18:00, the entire grounds of the Haus vun der Natur in Kockelscheuer will be transformed into a large family festival around the theme of sustainability, with about 3,000 visitors expected to attend the Fest vun der Natur (Nature Festival).
Over two days, visitors can enjoy numerous activities for the whole family.
• On Saturday, everything revolves around the topic of "Fair Fashion". In cooperation with the "Rethink your clothes" campaign (Caritas + Fairtrade), there will be a second-hand clothes market, a digital escape game "Fast Fashion Opgedeckt!" and a swap party. Sustainable designers will exhibit their creations and show how to upcycle clothes.
• On Sunday, the traditional family day will include demonstrations of forged goods, beekeeping and sheep shearing. The animals of the farm can be visited and fed under supervision.
A wide range of natural products, organic as well as locally produced food, handicrafts await visitors at over 40 themed sales and information stalls. There will also be a play corner and children's activities.
The entrance fee is €2 (U16s are free). The proceeds of the Fest vun der Natur will go towards projects of natur&ëmwelt. Thus, everyone contributes to the preservation of biodiversity in Luxembourg by participating.
Environmentally friendly and without having to search for a parking space, visitors can get to the Fest vun der Natur every 30 minutes on both Saturday and Sunday with the city bus line no. 18. By bicycle, visitors can reach the festival via the "Piste Cyclable du Centre PC1" (Hesperange - Leudelange cycle path). Visitors arriving by car can use the P&R Kockelscheuer-Patinoire, from where the festival can be reached in a few minutes via a marked footpath.