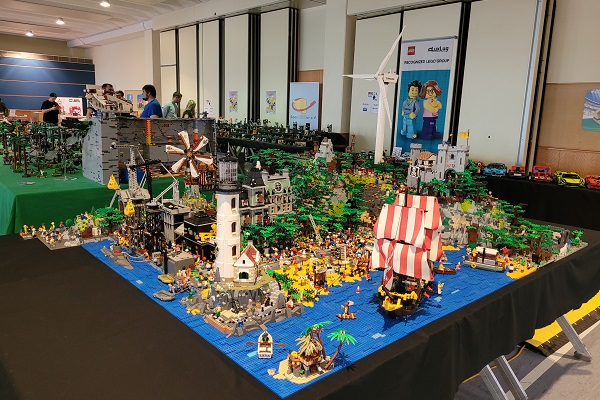 Brick Days 2022 event in Soleuvre; Credit: Jazmin Campbell / Chronicle.lu
Following the success of previous editions, including one held in Soleuvre last month, LuxLug Luxembourg Lego User Group asbl is organising its next "Brick Days" event at the sports hall in Medernach on Saturday 19 and Sunday 20 November 2022.
Founded in December 2010, LuxLug is the only officially recognised LEGO User Group (LUG) in Luxembourg. As LuxLug founder and President Robert Martellotto explained to Chronicle.lu, the road to official recognition by LEGO took two years. Robert had previously served as President of the now defunct Lego Frënn Lëtzebuerg club for two years before setting up this new club with the goal of it becoming a recognised LUG. Clubs that meet the required criteria to become LUGs receive support from LEGO in various ways, for instance the clubs can use banners featuring the LEGO logo at exhibitions and LEGO can produce and deliver specific desired LEGO pieces directly to the clubs for such events. Robert is also a LEGO Ambassador, a voluntary role which sees LEGO offer additional support and in return, the LEGO Ambassadors provide feedback to LEGO about their clients' wishes, etc.
LuxLug, which is celebrating its twelfth anniversary next month, started off with five or six members and a nine-strong committee (as is required by the municipality where the club was set up) including Robert as President and his wife as Vice President. Initially, the club was running children's workshops during weekends throughout the year – at one point there were about 150 children who were members. Over the years, LuxLug's focus shifted to adult fans of LEGO, many of whom have their own private collections and creations which they can showcase at events organised by LuxLug or other recognised LUGs across Europe. Currently, there are about 40 to 50 LuxLug members.
At the recent Brick Days event in Soleuvre (on 29 and 30 October 2022), there were about 30 exhibitors and 800 visitors. Among the exhibitors were those coming from clubs in Saarbrucken in Germany, Limburg in the Netherlands, Pelt in Belgium and even one who had come over from northern Italy. "It's a big family", noted Robert. "This makes it a nice passion and one that doesn't know borders".
LuxLug held its first Brick Days event back in November 2011. Every year since then the club has held this annual event – that is until the COVID-19 pandemic began. Whilst the event could not go ahead in 2020, the LuxLug committee took the decision to use this time to plan two annual events post-COVID. In 2021, the club thus held two Brick Days events (under CovidCheck rules): one in Sanem in October and another in Medernach in November. This year also sees two Brick Days events, although the first one was moved to a larger space in Soleuvre.
As Robert confirmed, the number of LuxLug annual events is set to increase to three from 2023: the Brick Days events in Soleuvre and Medernach but also a "Brick Sales" LEGO exchange (sale). The first edition of this new event is scheduled to take place in March 2023.
In addition to organising its own events, LuxLug co-organises, supports or attends the events of other LUGs. On 10 and 11 December 2022, it is supporting a large LEGO exhibition at Pakawi Park, a zoo in the Belgian village Olmen (about a three-hour drive from Luxembourg). The entry fee includes a visit to the zoo but also entry to the "Pakawi Bricks" exhibition; entry fees will go towards creating a new monkey house at the zoo and children can play a game and win a little bag with a LEGO monkey figurine inside.
Closer to home, the Medernach Brick Days event will be open to the public from 14:00 to 19:00 on Saturday 19 November and from 10:00 to 19:00 on Sunday 20 November 2022. About 20 exhibitors/sellers will be present. Food and drinks will also be available for purchase on site.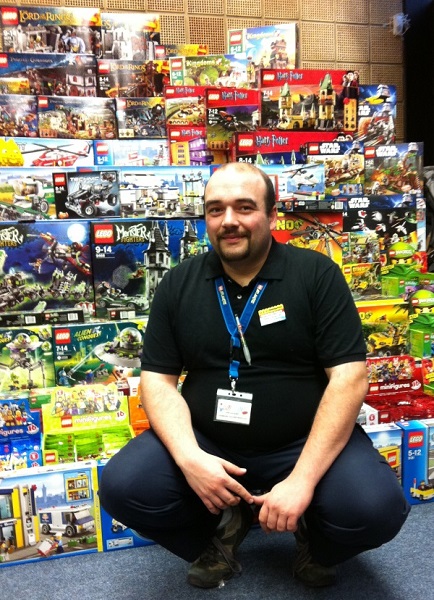 Robert Martellotto, President of LuxLug asbl