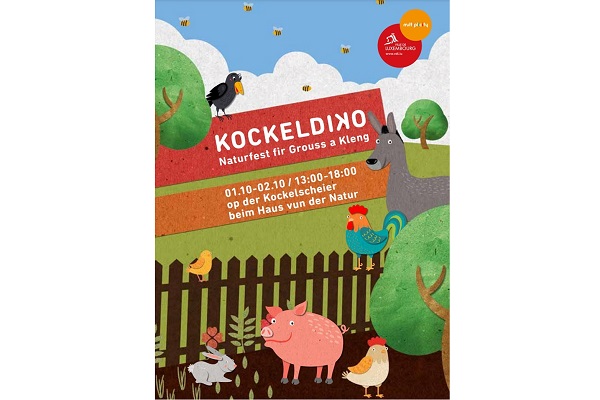 Credit: VdL
On Saturday 1 and Sunday 2 October 2022, the nature activities component of the Department of Education of the City of Luxembourg (Ville de Luxembourg - VdL) is organising the family-friendly nature festival "Kockeldiko" at the Haus vun der Natur in Kockelscheuer (5 Route de Luxembourg, L-1899).
Throughout the weekend, workshops, stands and games centred around forests, gardens, water, farms, bees, birds and sustainable development are planned. More specifically, visitors can enjoy creating works of art with natural materials and taking a horse-drawn carriage ride through the forest, among other activities.
The Kockeldiko event has received the "Green Events" label from Luxembourg's Ministry of the Environment, Climate and Sustainable Development for its eco-responsible organisation, which includes the use of reusable tableware and organic, local and fair-trade drinks and snacks, as well as the availability of waste sorting bins on site and decorations and workshops made from natural or reusable products.
The festival will run from 13:00 to 18:00 on both days. Entry is free and registration is not required.
The detailed programme is available online at: kockeldiko.vdl.lu.