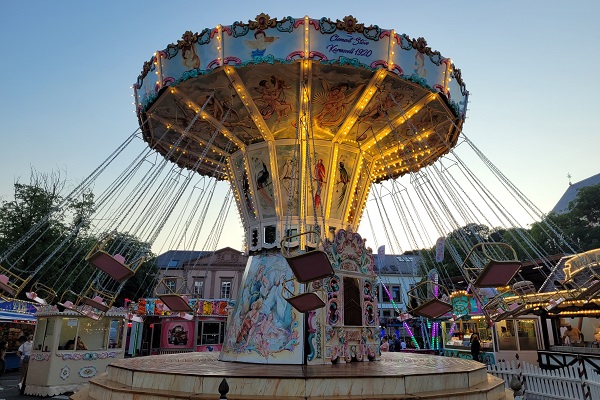 Kiermes in Diekirch, July 2022; Credit: Jazmin Campbell
Friday 29 July 2022 marked the start of this year's "Kiermes" funfair festivities in Diekirch, a traditional event locally known in this north-eastern Luxembourgish city as the "Dikrecher Laurentiuskiermes".
People (and dogs) of all ages gathered in front of the Decanal Church in Place Guillaume in Diekirch at the weekend to enjoy carousel rides, duck fishing and bumper cars, as well as typical Luxembourgish funfair food and drinks such as "Gromperekichelcher" (potato pancakes), burgers and hot dogs, and other snacks like churros and popcorn.
There are about fifteen different stands and attractions set up in the square for this year's Diekirch Kiermes, which is open to the public every day between 14:00 and 22:00 until Monday 15 August 2022.
Elsewhere in Luxembourg, today, Monday 1 August 2022, is the third and final day of this year's traditional "Welleschter Kirmes", which is being held on Rue de la Source in the south-eastern winegrowing village of Wellenstein. On the agenda are food, attractions and musical entertainment until midnight. One of the typical highlights of this particular Kiermes is the use of the plum-like "Duederen" fruit, which is native to this area, in different ways, including in the form of a "Duederen Drëpp" (spirit drink).
Traditionally, various towns in Luxembourg held these local fairs as part of religious festivals such as Easter; today, they have evolved into funfairs with rides, games and food stands held throughout the year (often still taking place on or around religious holidays).
The long-awaited return of Luxembourg's largest funfair, the Schueberfouer, is set for Friday 19 August 2022.