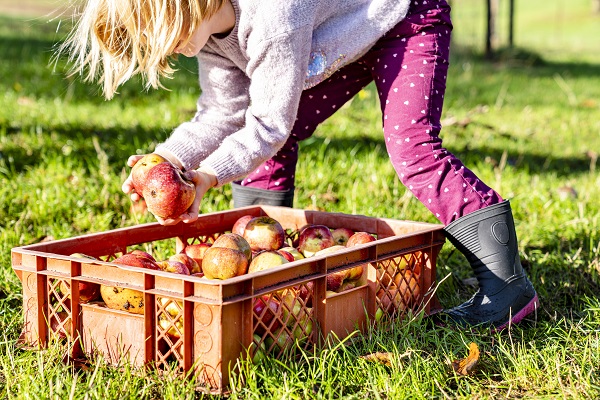 Credit: Caroline Martin
The Nature- & Geopark Mullerthal (Natur- & Geopark Mëllerdall) has announced that it is celebrating its orchards and local products as part of "Month of the Orchard" (Mount vum Bongert) next month.
Month of the Orchard will take place troughout October and invites the public to explore the Mullerthal orchards from different angles.
Culinary highlights
This October, various restaurants in the region will offer meals dedicated to orchards. These dishes are prepared exclusively with regional fruits and refined fruit products.
Highlights include "Dinner in the Dark" at the Bel-Air hotel in Echternach on 1 and 2 October 2021. Guests will have a regional four-course meal in the dark. This event is organised in collaboration with the A.M.V.A. (association for the visually impaired and blind) and an amount of €5 per meal is donated to the association.
In addition, Carli's Coffee in Echternach is organising a brunch with meadow orchard products on Father's Day, on 3 October 2021. Tables should be reserved in advance for 09:30 or 12:30.
The Gruber restaurant in Steinheim, near Echternach, will also take part in the campaign and offer a fruity treat with its special suggestions from 5 to 31 October 2021. On 17 October, in collaboration with Slow Food Luxembourg asbl and the Nature- & Geopark Mullerthal, a guided walk will be organised through the orchards in Born. Participants can then taste regional products in the nearby Hotel Restaurant Gruber. Registration via Slow Food Luxembourg is required.
Other partner restaurants include Heringer Millen in Waldbillig, Gudde Kascht in Haler and Aal Eechternoach in Echternach.
Drive-in varieties
The Nature- & Geopark Mullerthal is also organising a drive-through where members of the public can learn what variety of pear or apple tree they have in their garden. Individuals should collect five fruits from each tree and bring them either to Ramborn in Born on 2 October between 09:00 and 12:00 or to the car park of the Epicerie am Duerf in Schrondweiler on 16 October between 09:00 and 12:00. The varieties will then be determined free of charge on site by an expert.
Harvest action
Anyone wishing to help with the harvest is invited to participate in a fruit picking campaign, which will take place in Bech on 23 October from 09:00 to 12:00. As a reward, participants can take home some of the picked apples to eat. Participation is free but registration is necessary due to the limited number of participants.
Family activities
From 09:00 to 12:00 on 30 October, families will have the opportunity to compare different varieties of apples (whole or in juice form) using their five senses, before cooking and baking with the apples in Heffingen. This educational activity is provided by Naturparkschoul in collaboration with the École du Goût. Participation is free, but registration is required.
Moreover, as part of Ramborn Harvest Day on 2 October, the Nature- & Geopark Mullerthal is organising a guided walk through the orchard meadows in Born. At 14:00, a longer hike (about two hours) will take place in collaboration with the environment commission of the municipality of Rosport-Mompach. Registrations for this walk should be made via email: info@naturpark-mellerdall.lu or via tel.: 26878291-21. Participation is free, but registration is necessary.
Further information about Month of the Orchard, including the full programme, is available at www.naturpark-mellerdall.lu.