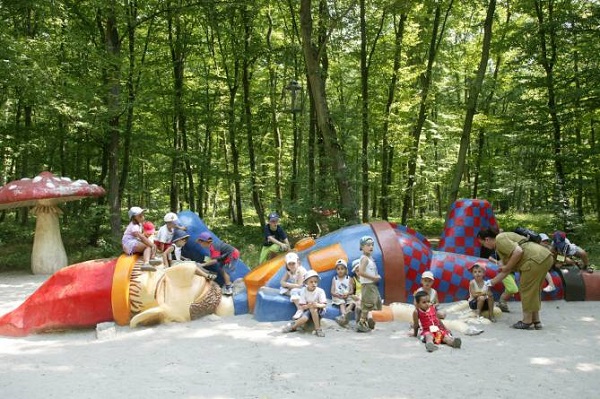 The Municipality of Bettembourg, located at the Château de Bettembourg, has launched a participatory project "De Ris geet op d´Rees" based around the sleeping giant at the Parc Mervielleux in Bettembourg.
The initiative is an integral part of the "Remix your story" project from Bettembourg, organised within the framework of Esch2022 - European Capital of Culture
Measuring almost ten metres high and living in the land of fairy tales, the sleeping giant is described as the most famous citizen of Bettembourg. It is around this figure that the municipality of Bettembourg and the Parc Merveilleux have launched their call for narration entitled "De Ris geet op d´Rees".
The objective? - the giant must go on a journey. For this to happen, the help of both small and large storytellers is required. What could he experience along the way?
From the ideas proposed, a comic strip will be produced jointly by the author Lucien Czuga and the illustrator Andy Genen. Some elements of the story are already defined and will therefore start at the Parc Merveilleux. The giant will wake up and will explore Bettembourg in particular. What adventures will he experience there? Who will accompany him? What does a giant really think and feel?
Ideas can be submitted until 1 July. "Whether it is drawings, texts or photos, all forms of expression are possible" said author Lucien Czuga.
All participants will have the chance to win annual entry subscriptions to the Parc Merveilleux. One could even find his character represented later in the comic. Speaking of drawing, Andy Genen has already made the first sketches of the giant. An exciting challenge, as he explained "I work with a character with clearly defined characteristics. I will of course keep them so that the reader immediately recognises the giant. But I will still give it my personal style. The giant has to come to life on paper."
The basic idea of ​​the comic strip project was proposed by Les trésors de la BD a.s.b.l. (The treasures of comics).
These elements constitute only the first pillar of the "De Ris geet op d´Rees" project. A second public call will be made at a later stage. At this (second) stage, the artists can rethink the giant and give it their own interpretation. The characters will trace a thematic route through Bettembourg, marked out by different stages. All of these elements are part of Bettembourg's contribution to the Esch2022 - European Capital of Culture program: the "Remix your story" project, which is based on the local "LiteraTour" reading festival.