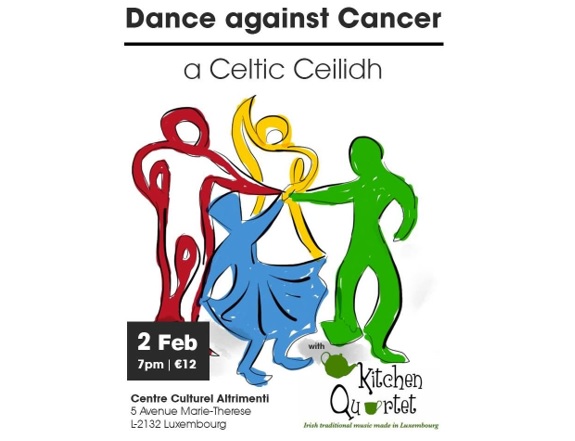 Dance Against Cancer Ceilidh 2019;
To mark World Cancer Day (on 4 February 2019), and to raise funds for the Luxembourg Cancer Foundation, a Scottish/Irish Cèilidh is being organised on Saturday 2 February 2018 from 19:00 at the Centre Cultural Altrimenti (5 Avenue Marie-Therese, Luxembourg-ville).
The 2019 Dance Against Cancer Cèilidh is the third such event held in the Grand Duchy, with €2,051.60 raised in 2018 for the Luxembourg Cancer Foundation.
Following the success of previous events in 2017 and 2018, the traditional Irish band Kitchen Quartet will again provide the music, with a dance caller organising those on the dance floor who may not know the various dances. The Luxembourg Pipe Band will also perform.
A cash bar will be in operation. All money raised will be donated to the Cancer Foundation.
What's a Ceilidh?
A cèilidh (Scottish Gaelic spelling) or cèilí (Irish Gaelic spelling) is a traditional Scottish or Irish social gathering, involving music, dance and merriment. You do not have to dance, but if you are keen to try and do not know how, the experts there on the evening will help you.
Tickets €12 from http://urquhart.lu/relais or at the door (subject to availability)