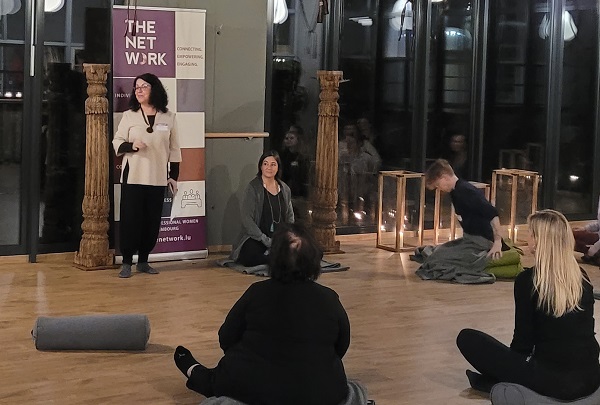 Credit: Jazmin Campbell
Luxembourg-based international professional women's association The NETWORK kicked off the new year with an event dedicated to wellness at Yogaloft. Luxembourg in Strassen on Wednesday evening.
The NETWORK's President Mariana Florea introduced guests (members and non-members alike) to this interactive event, during which attendees grabbed a cushion and participated in various exercises. An avid yoga practitioner herself, Mariana emphasised the importance of posture, breathing and timing.
Nora Schlesser, a Yoga Nidra teacher, a life coach for women over 40 and a creative dance educator, then guided attendees through a fifteen-minute meditation exercise to help them relax after a potentially stressful day. Nora explained that Yoga Nidra (also known as "yoga sleep") sees practitioners lie down for up to 50 minutes, drifting between the state of being awake and falling asleep, with the help of breath work and visualisations.
The evening continued with a stretching exercise led by Amelie Kuylenstierna, a yoga teacher and co-owner of Yogaloft. Luxembourg. Amelie asked attendees what yoga meant to them, noting that it means different things to different people. She briefly presented the origins of yoga as an ancient practice from India, and pointed out that there are many different types of yoga, but all provide a "space to connect to your mind and soul".
Laura Eyer, who specialises in stress management and wellness, the offered her practical tips to implement mindfulness in one's daily life. She drew inspiration from Harvard psychology professor Ellen Langer's research on mindfulness, emphasising the value of changing one's perspective when approaching stressful situations. She also presented some of the benefits of being present in the moment, acknowledging that being mindful "takes practice" but does get easier.
This interactive event concluded with a networking session over homemade snacks.
As Mariana Florea noted, The NETWORK's next event is dedicated to "finding your power" and will take place on the evening of Wednesday 22 February 2023. Further details to follow.