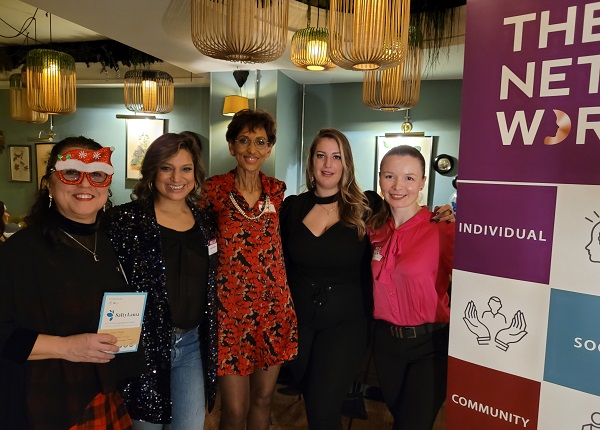 L-R: Mariana Florea, President of The NETWORK; Christine Hansen, Christine Means Business; Dorothy Germaine, Spa Escape; Severina Losch, author; Katsiaryna Shchadrova, Flibco; Credit: Jazmin Campbell
The NETWORK, Luxembourg's oldest international professional business women's association, held its last event of the year - a festive Christmas dinner for members and non-members alike - at Strogoff restaurant in Place de Paris (Luxembourg-Gare) on Wednesday evening.
30 women attended this sold-out end-of-year event, which featured fun networking activities, festive food, wine and a surprise gift for all attendees. As The NETWORK's President Mariana Florea explained, the number 30 was symbolic since the organisation celebrated its 30th anniversary earlier this year (belatedly due to COVID-19); next year, there are plans for a larger Christmas event, not least due to high demand this year. Mariana noted that 2022 had been a successful year for The NETWORK; one of the highlights was the gala dinner and charity fundraiser in March, which raised €9,000 for local women's charities Femmes en Détresse, Dress for Success Luxembourg and Think Pink Lux.
Other events in 2022 addressed the subjects of improving one's sleep (January), cross-cultural awareness (March), female role models (April), financial wellness (May), female leadership (June), women on boards (October) and how to build and maintain a thriving business (November). The NETWORK also held its traditional summer drinks networking event in June, after a two-year COVID-19-related hiatus, and a wine tasting fundraiser in September (for the benefit of Femmes en Détresse).
Surprise gifts (donated by the event sponsors) for guests at the Christmas dinner included vouchers for a visit to Spa Escape, essential oil rollers and travel notebooks, a children's colouring book about Saint Nicholas (De Kleesche well faarweg sinn by Severina Losch), Flibco Door2Gate vouchers, a SaltyLama ecological laundry detergent and a voucher for five cross-fit sessions at ShapeUp.
The guests were also invited to introduce themselves briefly and to take a fortune cookie to see what the new year has in store...