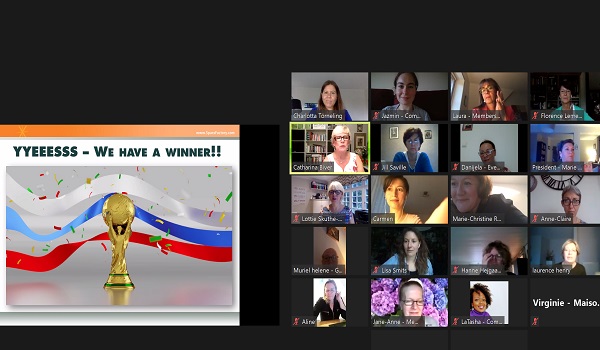 Credit: Jazmin Campbell / Zoom
On Wednesday evening, The NETWORK, Luxembourg's oldest international professional business women's association, held its traditional summer drinks and networking event for the first time in virtual format.
Over 20 members and non-members alike joined this virtual Zoom event, led by Catharina Biver, management coach and Managing Director of Sparx Factory Luxembourg, and her sister Lottie Skuthe-Cook, UK-based professional coach and founder of Grey Panther Management LTD. Charlotta Törneling, attaché at European Court of Auditors, helped facilitate the treasure hunt later in the evening, as well.
This interactive event was split into two parts: the first was dedicated to overcoming challenges to networking; the second took the form of a virtual treasure hunt.
Networking
The speakers began by asking participants to give their own definition of networking via the online polling tool Slido, before offering dictionary definitions and finally what networking means to them personally. A lot of the answers focused on making connections, meeting people and sharing experiences.
Participants were then divided into small groups and put in "breakout rooms" to discuss potential barriers to networking. Breaking the ice, potential language barriers and lack of knowledge on the topic were some of the most cited examples.
In response, Lottie Skuthe-Cook advised preparing in advance, namely knowing why you are going to a networking event, what you want to achieve and how to align this experience with your core values. She added that it is a common mistake to think that everyone else knows how to network and is an expert on a certain topic. Moreover, participants should reflect on who they are and what their unique selling point is, for instance the ability to connect people with others, and to be curious throughout the event. She also recommended simply introducing yourself and asking open-ended questions (What, Why, When, How, Where and Who?) to engage responses from people. She concluded by advising sharing your contact details first – and not leaving until you have done so.
Catharina Biver added that there is a lesser known tool on LinkedIn, which allows users to scan or share QR codes to easily and quickly connect their profiles. After the event, participants should follow up by connecting with people they spoke with, checking out their website or sending recommendations.
Regarding the do's and don't's of networking: Do arrive on time, smile genuinely, share your passion, listen actively and stay curious, work the room and dress for success; Don't (appear to) be timid, only spend time with people you already know, hi-jack the conversation, be afraid to ask questions or forget to swap contact details. Above all, the experience should be fun.
Participants then had the chance to go back into their breakout rooms to reflect on what they had learned, practise introducing themselves and determine their own core values.
Treasure Hunt
The second part of this event took the form of a virtual treasure hunt, guided by Catharina Biver, Lottie Skuthe-Cook and Charlotta Törneling. Participants were split again into seven breakout rooms for five minutes during which time they had to appoint a team leader to collect clues from the guides. The first task was to find their starting point on Google Maps. They then had to relay the answers to different clues to their team leader until they reached their final destination. The fastest teams (the focus of the treasure hunt was TEAM: Together Everyone Achieves More) won free coaching sessions with Catherine Biver and Lottie Skuthe-Cook.
The NETWORK President Marie Louise Ashworth concluded by stressing that the organisers had tried to "bring something different" to each of the association's virtual events recently, but that "this was the event to end it all". The evening concluded with virtual networking and drinks before The NETWORK said goodbye to its members (and non-members) for the summer break. Events will resume in September, possibly in person again depending on the evolution of the health crisis.