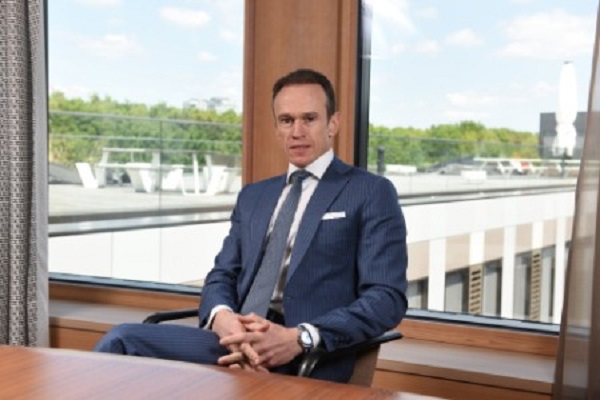 Alain Kinsch, current Country Managing Partner at EY Luxembourg; Credit: EY Luxembourg
On Friday, EY Luxembourg announced the upcoming completing of its current strategy and the launch of a new multi-year strategy.
As well as completing its ten-year strategy "Vision 2020", EY Luxembourg is launching its new "NextWave - Ambition 2026" strategy and transitioning to a new leadership team on 1 July 2020.
Alain Kinsch, Country Managing Partner at EY Luxembourg, commented: "Next year will be very special as, with the end of our financial year on 30 June 2020, we will be completing our long term strategic plan, Vision 2020. During this 10-year strategic cycle we deeply transformed EY Luxembourg, growing it from €100 million and 700 employees to a projected €260 million revenues practice with over 1,500 professionals".
Mr. Kinsch added: "Key milestones include becoming the second largest audit practice in Luxembourg, with a growth of 125%, building the market leader in Private Equity and Real Estate, doubling the size of our tax practice, tripling the revenues of our advisory practice, building an M&A/transaction advisory business, but also inaugurating an iconic new building at Kirchberg, to name a few".
Concerning the firm's future multi-year strategy, Jean-Michel Pacaud, President of the Board of Directors of EY Luxembourg, explained: "The Luxembourg Ambition 2026 aims to execute our new EY Global strategy: Next Wave which has recently been launched by our new Global Chairman Carmine DiSibio with the goal to create long term value as the World's most trusted, distinctive professional services firm. It was thus also from an EY network perspective the perfect moment to launch our local new multi-year local strategic plan".
Since January 2019, Alain Kinsch led an in-depth strategy definition process involving all the EY Luxembourg partners to design the EY Luxembourg Ambition 2026, in the context of the EY Next Wave strategy, and design its implementation through a six-year plan. The EY Luxembourg Ambition 2026 sets out ten clear ambitions including market growth, people career journeys, client centricity, high performing and united partnership, relationships, purpose and brand and risk management
As the current EY Luxembourg leadership team is preparing to retire, a new leadership team and managing partner will get the mandate to execute Ambition 2026 starting 1 July 2020.
Planning for the upcoming retirement of most members of the current leadership team, Alain Kinsch conducted soundings in 2019 with all the Luxembourg partners to build a consensus on the size, roles and composition of the new leadership team: "As we are taking a next step in our strategy, we give the mandate to a new leadership team to deliver the Ambition 2026. We are very pleased and confident in the new generation of younger partners that we brought up over the past years".
Jean-Michel Pacaud added: "The entire Partnership was keen for Alain Kinsch to continue as Country Managing Partner (CMP)". However, Alain Kinsch explained: "[I]n eighteen months I will turn 50 and so I thought a lot about what is best for EY in Luxembourg and about what I would like to do in the years ahead. I came to the conclusion that now is the right time to not only have a new leadership team but also a new managing partner taking over the helm of EY Luxembourg in July 2020 and get the mandate to execute Ambition 2026".
Over the next few weeks a sounding process will lead to designate the incoming CMP. The members of the new Country Leadership Committee (CLC) and the new CMP will be announced at the firm's annual All-Staff Townhall meeting on 13 December 2019.
Alain Kinsch will stay in charge together with the current leadership team until 30 June 2020 after which the new team will take over. Mr. Kinsch will continue to support the transition until the end of 2020.