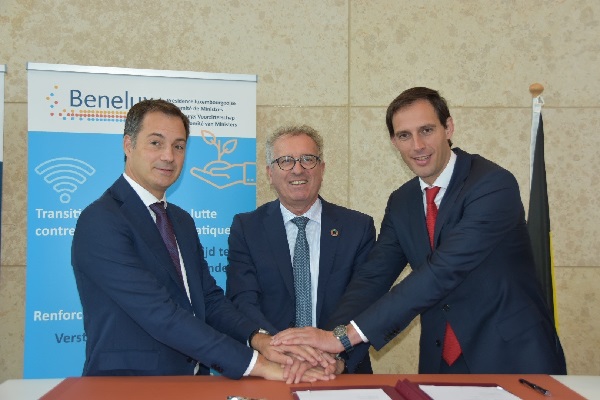 L-R: Alexandre de Croo, Belgian Minister of Finance; Pierre Gramegna, Luxembourg's Minister of Finance; Wopke Hoekstra, Dutch Minister of Finance; Credit: MFIN
The Benelux countries have signed an agreement strengthening their cooperation in the fight against tax evasion.
Under Luxembourg's presidency of the Benelux, Luxembourg's Finance Minister Pierre Gramegna, Dutch Finance Minister Wopke Hoekstra and Belgian Finance Minister Alexander De Croo signed a Benelux agreement on the sidelines of the Economic and Financial Affairs Council (ECOFIN).
This agreement strenghtens Benelux cooperation in the common fight against tax evasion. Attention will be focused on digitalisation to combat new forms of fraud and anticipate new phenomena in this area.
Pierre Gramegna commented: "Over the decades, the Benelux Union, which brings together three of the founding members of the European Union, has proved itself as an innovative and pioneering laboratory in Europe. This new agreement, signed under the Luxembourg Presidency, once again demonstrates the three countries' continued commitment to cross-border cooperation, and is a strong signal of the will to move forward in the common fight against tax fraud".
Since 2001, the three Benelux countries have worked closely together in the field of taxation and the fight against cross-border tax evasion. This cooperation has resulted in significant financial results and has served as an example for the fight against fraud at European level on several occasions. Thus, the Benelux developed the Transaction Network Analysis, a system that allows automated detection of cross-border VAT fraud. The system was then transposed to the European level.
With this agreement, the three ministers go even further by participating together in digital projects that will allow the automatic exchange of information between countries. In the field, joint studies will be conducted to detect new phenomena of fraud. The three countries will share their tax experience more closely and closely follow European developments in this area. At least once a year, the tax administrations of the Benelux countries will hold high-level strategic consultations to discuss progress and provide impetus.
The agreement also confirms the Benelux finance ministers' willingness to continue to play a pioneering role in the EU through their enhanced tax cooperation.