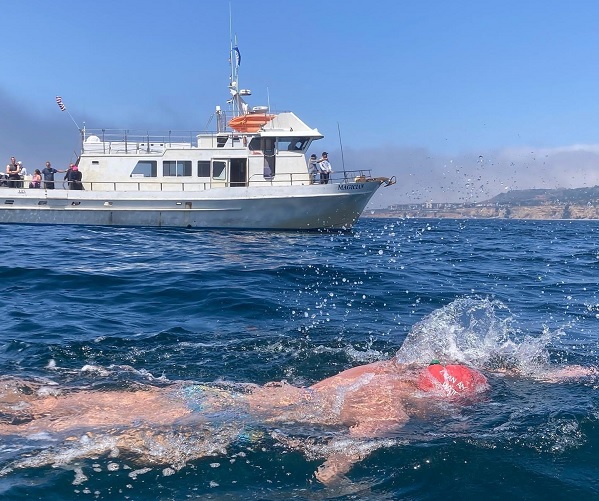 Paule Kremer swimming the Catalina Channel in the US; Credit: Paule Kremer
On Wednesday 17 August 2022, Luxembourg's long-distance, cold-water swimmer, Paule Kremer successfully completed the Catalina Channel on the West Coast USA, from Santa Catalina island to Palos Verdes, near Los Angeles on the mainland, an endurance effort she commenced the previous day.
The island is located about 47 kilometres (29 miles) south-southwest of Long Beach, California; the swim itself is 32.5 km (from the island to the closest point on the mainland). In comparison, the channel swim, between France and England, is around 34 kilometres (21 miles).
Paule Kremer has successfully swum the English Channel; in fact, she was the first Luxembourgish swimmer to do so, in August 2017 - see https://chronicle.lu/category/swimming-and-diving/22895-paule-kremer-becomes-1st-luxembourger-to-swim-channel. She waited for two years to undertake the Catalina Channel swim, postponed due to COVID-19 restrictions on travel.
The Catalina Channel Swimming Federation congratulates Paule Kremer on her successful swim across the Catalina Channel in a time of 13 hours 54 minutes and 5 seconds (pending ratification).
Speaking later on social media, Paule said "Channel swimming seems solitary but it is a team effort. First of all, thank you everyone out there for your messages of support and congratulations, my inbox is exploding"
She was raising funds for the Plooschter Projet (see https://gofund.me/0c85489e) which supports people with leukemia and raises awareness for stem cell donations.
Paule acknowledged those who helped her "Thank you to my amazing crew Alwin De Prins Duc Fehr Michel Weiler Alwin, I am happy we got to finish this together after all this time, even though I thought you were the dolphin I was hoping to see during my swim. Thank you to the crew on the Magician, my observers from the CCSF Qing (Li) and Joel (Virgel) and my amazing kayakers Guy and Tom." She also thanked Paddlefish Panda, Emma France, Dover Channel Training, her Open Water Luxembourg group and her "swim buddies" Jil Hamm and Adrien Rossignon, adding "also thank you Adrien for accepting that your girlfriend spends most of her time either in a lake, a pool or somewhere else to train".
In describing the experience, she stated "The swim had everything in it and threw a lot at me, but I overcame adversity. It started off nice and easy but after a while I started to fall asleep around 6 hours and there were some stretches in it when I had to throw up quite violently and loudly (sorry crew). The worst bit for me was the fog covering my sight of the mainland. I know you should never sight too much as a swimmer but it was so tough knowing I was close but not seeing it with my own eyes. The current was coming at me that moment and a tired swimmer and a current are not the best match. I was desperate to make it to shore and Guy telling me it was my last feed before Los Angeles were like music to my ears! The fog cleared for the last hour of my swim and I was finally able to see Palos Verdes."
Interestingly, her time (pending ratification) was 13:54:05, only a couple of seconds faster than her English Channel time. "I swear I did not do it on purpose" she quipped.
The Catalina Channel is one component of what is known as the Triple Crown of Open Water swimming, a marathon swimming challenge consisting of three historically important swims: (a) The English Channel, 33 km between France and England; (b) The Catalina Channel, 32.5 km between Catalina Island and the California mainland, and (c) The Manhattan Island Marathon Swim, a 48.5 km circumnavigation of Manhattan Island, New York City. As of August 2022, 269 swimmers had earned this distinction. Paule Kremer has become the 270th.