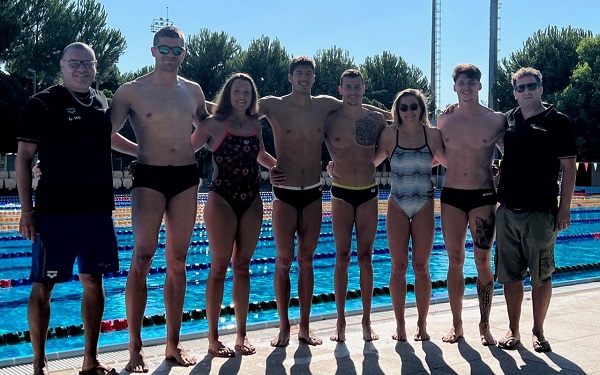 Luxembourg team for the European Swimming Championships 2022; Credit: FLNS
On Friday 12 August 2022, at the European Swimming Championships in Rome, Italy, Pit Brandenburger set a personal best in the Men's 100m Freestyle.
Rémi Fabiani and Pit Brandenburger both swam in the Men's 100m Freestyle, the heats of which took place early in the morning. The two swimmers swam in lanes 0 and line 1 during the third heat, with Rémi posting a time of 23.65 seconds and Pit posting 24.27 secs at the half-way mark. Rémi finished just ahead in 50.12 secs (a personal best, PB), while Pit clocked 50.81 secs.
Nevertheless, Rémi Fabiani had wanted to pass under the barrier of 50 secs. After his race he spoke of mixed feelings - he was both satisfied to know he is in good shape but disappointed to remain a few hundredths from his target.
Pit, meanwhile, mentioned his surprise at being able to start so quickly even though he knows that tactically he paid for his effort in the last fifteen metres where he is usually very strong.
Both swimmers had good reference races and they will know what to improve to do better in the 4x100 Freestyle relay which takes place on Sunday. They will pay attention to their recovery to continue to participate in these championships.
On Saturday, Luxembourg will be represented by Monique Olivier who will swim in the 200 Freestyle.