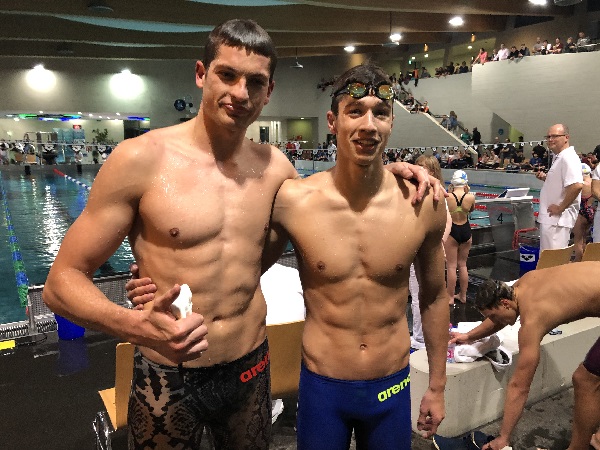 Max Mannes and Remi Fabiani; Credit: FLNS (Luxembourg Swimming Federation)
Over the weekend, Luxembourg swimmers Max Mannes and Remi Fabiani qualified for the European Short Course Championships being held this December in Glasgow.
On the first day of the national course swimming championships, held at the Aquasud swimming complex in Differdange on Saturday and Sunday, Max Mannes and Remi Fabiani succeeded in securing their spots at the upcoming European Championships.
On Saturday, 18-year-old Remi Fabiani beat the junior standard time for the European Championships over the 50m freestyle event, leading with a time of 22.26 seconds and setting a new age-class record for the 18-year-olds. In the final, the Differdange swimmer finished in second place in 22.34 seconds, behind Julien Henx, who won the freestyle sprint in 22.04 seconds.
In an intense 200-metre freestyle race, Max Mannes similarly secured his spot for the European Championships. The 21-year-old finished in 01:47.43 minute, staying 0.3 seconds under the standard time of 01:47.73 minutes. Remi Fabiani brought home the silver medal with a time of 01:47.97 minutes and thus remained well below the European Championships standard for juniors (01:49.38 minutes).