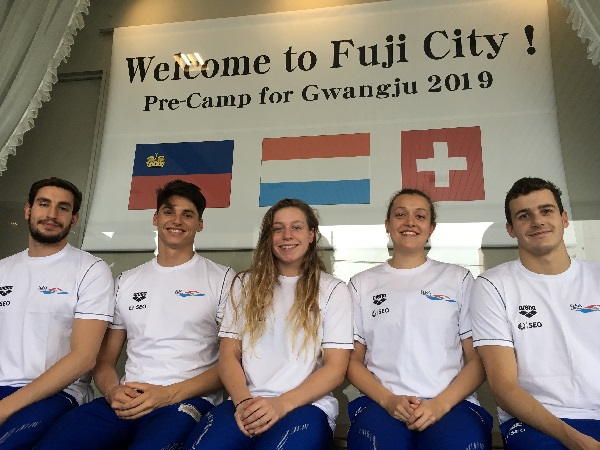 Credit: FLNS
Luxembourg swimmers Raphael Stacchiotti, Pit Brandenburger, Julien Henx, Monique Olivier and Julie Meynen are set to compete in the 18th FINA World Swimming Championships, taking place from 13 to 29 July 2019 in Gwangju, South Korea.
A total of 2,563 athletes from 194 nations, including the Luxembourg Swimming Federation's (FLNS) five-strong team, will be competing for titles, best times and medals at the world championships in swimming, water polo, diving, synchronised and open water swimming as well as high-diving.
The Luxembourg team have been preparing for the title fights since yesterday in a training camp in Fuji, where they will remain until 18 July 2019. Technical Director of the FLNS, Christian Hansmann, explained: "Together with the teams from Switzerland and Liechtenstein, we are using the perfect infrastructures here in Fuji with an Olympic 10x50-metre pool and generous weight room. Here we can adapt ourselves in peace to the time and climatic conditions. The whole package is also available for the next two years in preparation for the Tokyo 2020 Olympics and the 2021 World Cup in Fukuoka".
The first impressions of the athletes from the preparatory training camp in Fuji have been very positive. Raphael Stacchiotti noted: "There are optimal conditions here, we can swim twice a day and do strength training or use the time for physiotherapy".
On Saturday, the athletes will visit Tokyo during their free time to get a taste of the Olympic air ahead of next year's olympics.