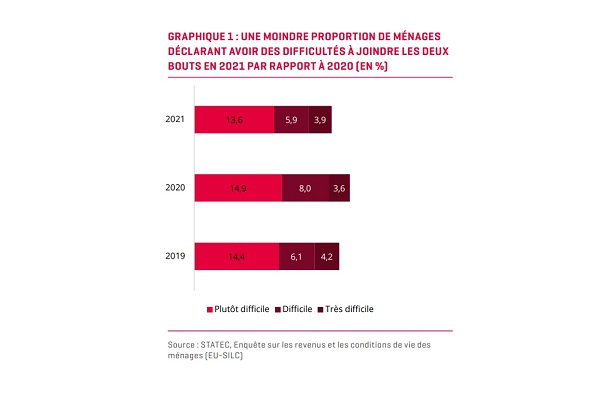 Percentage of households saying they had difficulty making ends meet in 2019-2021; Credit: STATEC
A recent survey by the national statistics portal STATEC has found that almost one-quarter of Luxembourg households had difficulty making ends meet in 2021.
This new publication uses the first results of the survey on household income and living conditions (EU-SILC) conducted in 2021 by STATEC in order to provide an initial overview of the financial situation of households in Luxembourg. The information presented thus relates to qualitative data collected from direct questions put to households.
According to STATEC, Luxembourg households' feelings about their financial situation improved significantly in 2021: 23.4% of households said they had difficulty making ends meet, down from 26.5% in 2020 and 24.7% in 2019. After a sharp deterioration in 2020, which STATEC has said was likely linked to the impact of the COVID-19 pandemic, the proportion of households with financial difficulties has fallen below its pre-COVID-19 level.
More specifically, 13.6% of respondents said that they found it "rather difficult" to make ends meet (down from 14.9% and 14.4% in 2020 and in 2019 respectively), whilst 5.9% found it difficult (down from 8.0% in 2020 and 6.1% in 2019).
However, the proportion of households for which making ends meet was "very difficult" increased slightly between 2020 and 2021 (3.6% and 3.9% respectively).
This overall situation is confirmed, according to STATEC, by examining another indicator: the proportion of households declaring that they have experienced a drop in wages. This fell from 14.3% in 2020 to 11.4% in 2021.
Other indicators concerning material deprivation, arrears of payment experienced by the household or the recourse to debts for the purchase of real estate (excluding one's main residence), also testified to an overall improvement in living conditions between 2020 and 2021, according to the survey. Consequently, STATEC deemed it likely that a greater proportion of households reported that they could easily make ends meet because of an overall improvement in their living conditions, especially after a difficult year 2020 marked by the pandemic.
Nevertheless, some difficulties persist or have even increased. The gap widened further between the better off and disadvantaged households in 2021 particularly with regard to the inability to meet an unforeseen expense or to replace worn furniture due to a lack of financial means.
Conversely, regardless of the level of difficulty in making ends meet, the proportion of households having contracted debt outside their main residence increased in 2021 and the gap between the two sub-populations was only 9.7 percentage points.
On the other hand, the perceived burden of these debts was lower for households which felt that it was easy to make ends meet: 63.1% considered that these debts represented a significant or moderately significant burden in 2021 compared to 65.8% in 2020. Among those who found it difficult to make ends meet, this perceived burden increased from 90.6% in 2020 to 92.8% in 2021.
The full report is available (in French) at: https://statistiques.public.lu/fr/publications/series/regards/2022/regards-08-22.html