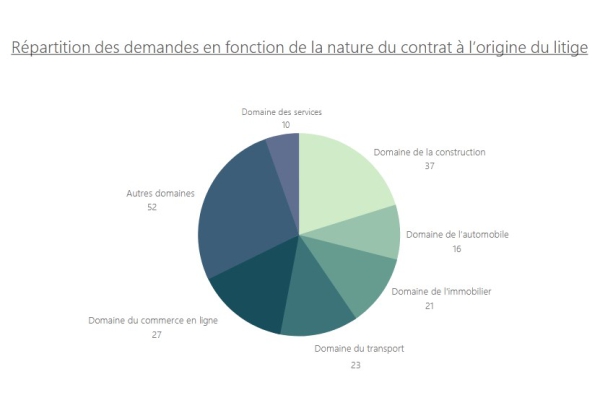 Credit: SNMC
On Friday 27 May 2022, Luxembourg's National Consumer Mediator Service (Service national du médiateur de la consommation - SNMC), which has the main activity to mediate out-of-court consumer disputes at the initiative of consumers and professionals, announed the publication of its 2021 annual report.
Between 1 January and 31 December 2021, the SNMC received a total of 403 requests. Of these requests, 186 did indeed fall within its competence. While of all the requests received, the year 2021 was marked by a 40% decrease in the requests submitted, the number of requests which actually fall within the competence of the SNMC suffered a slight drop of 2.1% compared to 2020 (from 190 to 186).
Among these 186 requests, there is a clear increase in requests in the field of construction (rising from five to 37) while disputes in the field of e-commerce have decreased by half (decreasing from 46 to 27). The Service also observed a better participation rate in mediation, going from 49.4% to 62.9% and a success rate of 91.5%, in other words, of the 95 files closed in 2021, 87 ended in a agreement between the parties which put an end to the dispute.
The primary role of the SNMC is to inform consumers and professionals about the progress of the out-of-court settlement process for consumer disputes. Secondly, the SNMC is competent to receive any request for out-of-court settlement of a consumer dispute. When a request relates to a consumer dispute for which another entity is competent, the SNMC transmits this request without delay to this entity. In 2021, a total of 62 requests were sent to other entities or institutions (including 37% to the Luxembourg Institute of Regulation (Institut Luxembourgeois de Régulation - ILR), 17.7% to the Luxembourg's financial regulator (Commission de Surveillance du Secteur Finance - CSSF) and 45.3% to the ACA). Finally, the third competence of the SNMC is that of handling a consumer dispute itself when no other qualified entity is competent.
Claude Fellens, consumer mediator said: "With all my team, we are committed to listening to each party, appreciating the actions and words of each, in all circumstances, to promote a sincere and find a way out of difficult situations together. Our intervention is neutral and multi-partial, that is to say as much at the service of companies as of their customers. We see our mission as protecting both the interests and reputation of businesses and the interests and needs of consumers."
The 2021 annual report is available online via: https://meco.gouvernement.lu/fr/publications/rapport-etude-analyse/snmc/2021-rapport-snmc.html. Interested persons can receive a paper copy of the report free of charge on simple request to be sent by email to mediateurs@mediateurconsommation.lu.