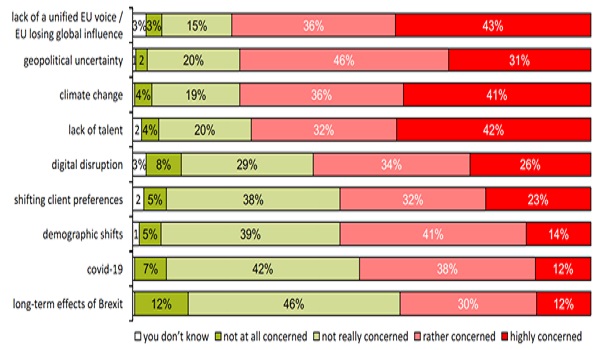 Socio-economic factors of concern; Credit: Luxembourg for Finance Financial Services Survey, October 2021
Luxembourg for Finance (LFF) has published the results of its latest Luxembourg Financial Services Survey.
Business confidence has increased significantly over the last twelve months; this according to more than 60% of the over 400 c-suite executives and senior leaders from Luxembourg's financial centre surveyed by LFF in October 2021. In line with this increased confidence, more than half of individuals surveyed expected their organisation to increase global investments in 2022 - 33% more than a year ago.
Despite this growth in confidence, financial leaders were wary of emerging macro-economic risks, most notably asset bubbles and inflation, including the significant accumulation of public debt, the rapid rise of energy prices and skyrocketing real estate prices.
Increasingly protectionist reactions at a national level are seen as a key concern, with almost 80% of respondents indicating concern over the growing fragmentation within the single market. Participants stressed the need to overcome national action by member state authorities and rather to focus on an overall European Union (EU) objective in order to overcome the loss of competitiveness currently seen among EU financial actors on a global stage.
According to LFF, the industry has recovered well from the initial turmoil seen during the COVID-19 pandemic, with 49% of respondents indicating that they were no longer concerned about the pandemic's influence on financial services. Additionally, a majority of respondents (58%) were not concerned about the long-term effects of Brexit, showing that the industry has adapted well to the new situation.
Access to talent remained a key issue for the global financial services industry. In Luxembourg, 51% of respondents were not confident in their organisations' ability to address the issue, up from 44% in April 2021.
On the other hand, firms in Luxembourg have taken to heart the need to protect vulnerable systems and client data, with 79% confident in their organisations' ability to handle the cybersecurity challenge. Moreover, the shift to home-based work has been smooth, with 88% of respondents confident in their organisations' ability to deal with any possible challenges that might arise in the coming twelve months.
The survey revealed that, in general, Luxembourg's financial services industry seems to be well-prepared to handle the challenges relating to sustainable finance: 71% of respondents wre confident in their organisations' ability to include environmental, social and governance (ESG) considerations into client advice, 64% in identifying sustainable investment opportunities and 68% in designing sustainable products. However, the availability of quality sustainable data and the fragmentation of standards remain major concerns for respondents, in line with the global trend.
Commenting on the survey results, Nicolas Mackel, CEO of Luxembourg for Finance, said: "Given increasing macro-economic challenges and nationalistic voices against the single market it is critical that financial services across the EU work well to finance the recovery sustainably and effectively. Thus, the surge in optimism relating to the overall financial services climate is encouraging as finance will have a large role to play in rebuilding the global economy".