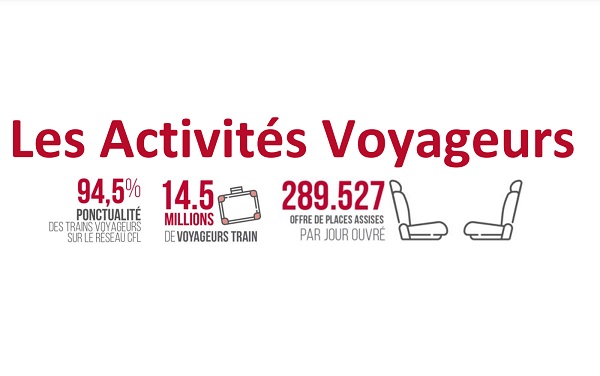 Credit: CFL
Luxembourg's national railway company, the CFL, presented its annual results for 2020 at the CFL conference centre on Monday.
CFL Group closed the year 2020 with a net profit of €4.6 million, down 74.1% (i.e. €13.2 million less) compared to the year before.
Despite the repercussions of the COVID-19 pandemic, the CFL resolutely pursued their commitments in favour of the continuous improvement of the quality of services for mobility and in favour of the economic development of Luxembourg and the Greater Region.
The CFL Group actively participated in the work of the logistics crisis unit of the Ministry of Health by helping LuxairCARGO teams with the delivery of medical equipment from April 2020.
The health crisis had an impact on the number of passengers on trains, which dropped from 25 million in 2019 to 14.5 million in 2020 (down 42%), and on the fluidity of train traffic on the rail network. The CFL Group nevertheless continued to improve its service offer, particularly regarding punctuality: from the first two months of 2020, the punctuality rate reached 92.7%. For the entire year, the punctuality rate was 94.5% (compared to 90% in 2019).
The net turnover of the CFL Group increased by 0.6%, from €910.5 million in 2019 to €915.8 euros in 2020.
In 2019, the group closed the financial year with a net profit of €17.8 million. This result was positively impacted by non-recurring real estate transactions. After deducting the impact of these transactions, CFL Group's 2019 net income amounted to €5.3 million. The CFL Group thus deemed the 2020 net profit of €4.6 million, achieved in the context of a serious health crisis, "very satisfactory".
In addition, the CFL Group's total investment expenses increased from €77.8 million in 2019 to €92.5 million in 2020 (up 11.9%). Freight activities showed a positive consolidated net result of €0.8 million for 2020.
Last year, the CFL recruited a total of 310 new employees.