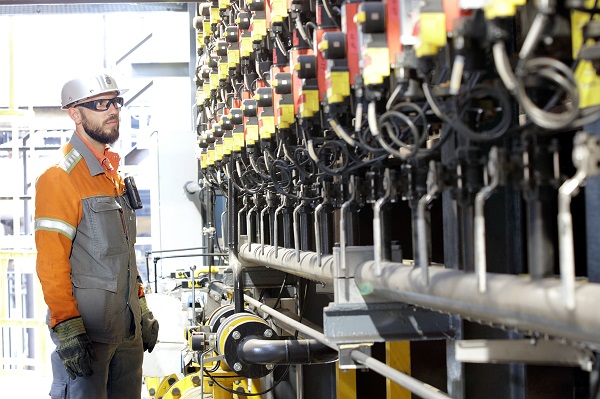 Coke oven gas injection into blast furnace; Credit: Dirk Martin, Saarstahl
Luxembourg engineering company Paul Wurth SA recently published its annual results for the financial year 2020.
Paul Wurth reported a 15.7% drop in turnover over one year (standing at €403.7 million in 2020), closing the financial year 2020 with a net profit of €4.9 million, down from €14.4 million in 2019.
Given the very challenging global environment which prevailed in 2020, Paul Wurth Group's business showed resilience to the COVID-19 triggered economic downturn. The year under review saw a general strong drive towards decarbonisation of the industry, supporting the group's research and innovation strategy for carbon-neutral technological solutions.
The outbreak of the pandemic sharply exacerbated the already strained situation of the steel industry, with subsequent consequences on the steelmakers' investment activity, on travel and visits as well as on project execution. Whilst in spring, when the first lockdowns hit larger geographic areas and key economies, the outlook for the financial year was quite pessimistic, the remaining months of the year allowed the industry to catch up the subdued demand to some extent. The order intake of the group reached €393 million at the end of the year, which is 7.7% down on 2019's volume.
In 2020, initiatives aimed at decarbonising the industry and the race to the first industrially produced green steel products gained momentum. The efforts for developing and scaling up carbon-neutral technologies and in particular the decisive potential seen in hydrogen were echoed in politics, with many national governments and international institutions unveiling their roadmaps for energy transition and a hydrogen based economy.
In the steel industry, exchanges with leading players along the entire metal production chain, such as Rio Tinto in Canada, CAP in Chile, ArcelorMittal in France, Dillinger in Germany and NLMK in Russia, resulted in a number of partnership agreements and contracts for Paul Wurth aimed at evaluating the feasibility of green H2-based steelmaking.
As for the second pillar of the group's hydrogen related activities (Power-to-X applications in the energy sector), Paul Wurth's development initiatives in 2020 progressed well. In particular, the companyparticipating in the Norsk e-Fuel joint venture, planning Europe's first commercial plant for hydrogen based renewable aviation fuel in Norway, in the EU-funded Multiplhy project to build a green hydrogen generation plant for a biofuel refinery in Rotterdam as well as in the EU-funded MegaSyn project to install a high-temperature co-electrolyser system to produce renewable syngas at an Austrian refinery.
In addition, Paul Wurth and its shareholder SMS group are pooling their competences and strengths with the common aim of continuing to set technological standards in the forward-looking fields of industry decarbonisation and the related technological transformation. To strengthen scientific research and development of hydrogen technologies at the Luxembourg site, the company agreed a strategic partnership with the University of Luxembourg by creating a Chair for Energy Process Engineering.