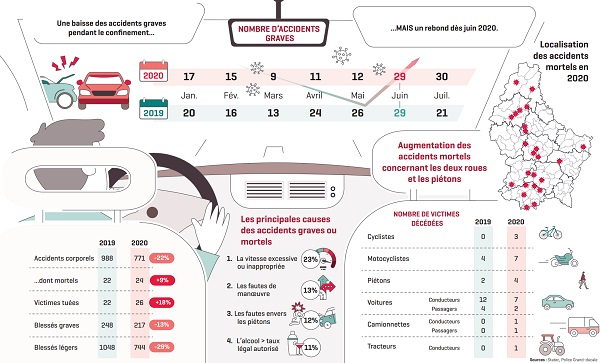 Credit: STATEC / Police Grand-Ducale
Luxembourg's Ministry of Mobility and Public Works have presented the 2020 road report, according to which there were fewer road accidents but more road deaths last year compared to 2019.
Both the total number of accidents on Luxembourg's roads involving bodily injury and the number of people seriously injured in such accidents fell over one year, from 988 to 771 (down 22%) and from 248 to 217 (down 13%) respectively.
However, the number of people dying in fatal accidents increased slightly, from 22 deaths in 2019 to 26 deaths in 2020.
Despite a downward trend, speeding and drunk driving remained the leading causes of road accidents. Manoeuvring errors and vehicles hitting pedestrians also had a negative impact on road safety in Luxembourg in 2020.
The statistics also showed that collisions between vehicles were predominant, whilst collisions between vehicles and trees as well as between vehicles and pedestrians decreased compared to the previous year.
That being said, Luxembourg's roads claimed the lives of four pedestrians in 2020 (up from two in 2019), as well as three cyclists (zero in 2019) and seven motorcyclists (four in 2019). Nine car passengers (seven drivers, two passengers) were killed in road accidents (down from sixteen), as were two lorry passengers (one driver, one passenger; up from zero) and one tractor driver (zero in 2019).
The Ministry stressed that, contrary to public opinion, it was not mainly young drivers who were reckless on Luxembourg's roads; the drivers who were responsible for serious and fatal accidents in 2020 were aged between 35 and 44.
Luxembourg's Minister of Mobility and Public Works, François Bausch, commented: "Between 2013 and 2020, we see a downward trend in the numbers of deaths, injuries and serious accidents. This trend testifies in particular to the effectiveness of the action plan in place, with which I am particularly delighted".