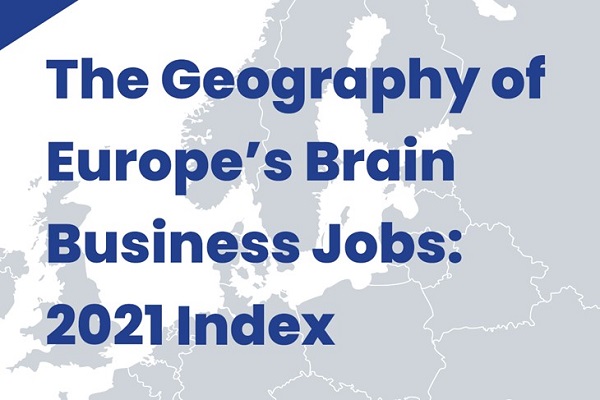 A new report entitled "The Geography of Europe's Brain Business Jobs: 2021 Index", produced by the European Institute for Policy Reform and Entrepreneurship (ECEPR) with the support of Nordic Capital, has found that Luxembourg's strong growth of knowledge-intensive occupations, i.e. "brain business jobs", continued in 2020.
The ECEPR and Nordic Capital Brain Business Jobs Index measures the share of the working age population across Europe employed in highly knowledge-intensive enterprises, in 31 countries and 284 regions.
During the COVID-19 crisis, the number of brain business jobs decreased massively in Europe. However, Luxembourg was an exception, not only maintaining its knowledge-intensive occupations but also managing to increase them. In 2020, the number of brain business jobs in Luxembourg increased by 800. The concentration of the population employed in knowledge-intensive firms remained at 8.7%. All in all, Luxembourg has added 8,000 brain business jobs since 2012.
In Western Europe as a whole, approximately 59,000 brain business jobs were lost between 2019 and 2020. However, four Western European countries managed to stay stable during the year: Belgium, Ireland, France, Luxembourg and the Netherlands. Still, these countries only managed to add a small number of jobs, which fades in comparison to the loss of brain business jobs suffered by the United Kingdom (UK).
On a regional basis, the most significant increase of brain business jobs has occurred in Warsaw, the Polish capital region, followed by the Slovakian capital region of Bratislava, and the German region of Braunschweig. The region with the highest concentration of brain business jobs, Bratislava, has an exceptionally low unemployment rate of 2.4%. According to the report, this does not seem to be a coincidence. A comparison of 281 European regions has shown that a strong link exists between high brain business jobs concentration and low unemployment, and that this link is driven by regions with low brain business jobs concentration.
With a concentration of 8.7% of its working population employed in knowledge-intensive firms, Luxembourg was one of the leading knowledge-nations of Europe in 2020. Ahead of it were only three countries: Switzerland, Sweden and the Netherlands. It was also the smallest nation in the top 10 by far, together with Iceland.
The report cited various examples of innovative start-ups in Luxembourg, includinh Tokeny Solutions, an end-to-end compliant platform to issue, manage and transfer securities on the blockchain, and Kleos Space, which develops a geolocation intelligence data service, based on satellite data.
Klas Tikkanen, Chief Operating Officer (COO) at Nordic Capital Advisors, explained: "Knowledge is the foundation for attracting investments and creating value in a long term sustainable way". He continued: "The study confirms that high knowledge intensity gives resilience in a time of crisis. [...] But now is the time for reforms and developing the regulatory frameworks in order to get back to the level before COVID-19. That will lead to increased investments, and the increase of brain business jobs again".
Compared to the rest of Europe, Luxembourg had several strengths, namely in telecommunications, in which its share of brain business jobs was more than three times the European average. In the telecoms sector, no other European country came close to having the concentration of knowledge-intensive jobs as Luxembourg. The Grand Duchy also proved itself to be strong in programming.
The full report can be downloaded as a PDF
here
.