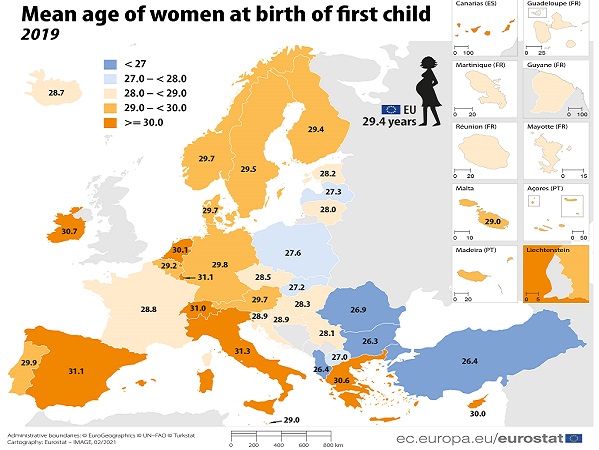 Credit: Eurostat
According to a Eurostat report published on Wednesday, women across the European Union (EU) are having their first child later; Luxembourg is no exception.
The mean (average) age of first-time mothers in the EU is gradually increasing and reached 29.4 years in 2019. The mean age increased in all EU member states, including in Luxembourg, where it went from 30.2 years in 2015 to 31.1 years in 2019.
Estonia recorded the largest change between 2015 and 2019, going from 27.2 to 28.2 years (increase of one year), followed by Luxembourg and Lithuania (both increased by 0.9 years). Over the same period, the smallest changes were recorded in Slovakia (up 0.1 years) and Slovenia (up 0.2).
In 2019, the mean age of first-time mothers was above 31 in just three EU member states: Italy (31.3 years), Spain and Luxembourg (both 31.1 years). In contrast, the mean age was below 27 years in two member states: Bulgaria (26.3 years) and Romania (26.9 years).