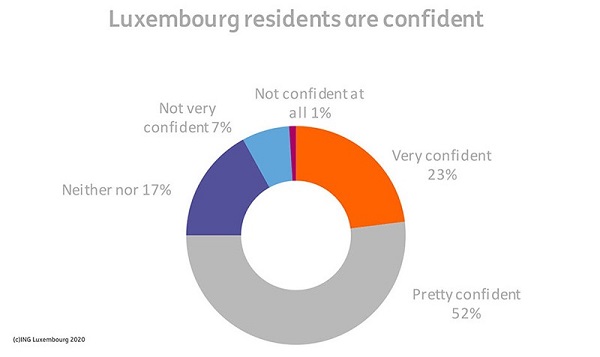 Three in four Luxembourg residents (75%) have expressed confidence that they will master the coronavirus crisis, according to the latest survey conducted by ING Luxembourg; the survey also covered personal finance topics.
Participants in the survey were asked "How confident are you, that we in Luxembourg will master the coronavirus crisis well?", to which 23% answered "very confident" and 52% "pretty confident". Only 8% of surveyed residents felt little or not confident.
Younger respondents tended to be more confident with 80% of those aged between 18 and 34 years old stating they were confident. Respondents aged 35 to 54 were 8% less confident, i.e. 72%. From 55 years onwards, optimism picks up again: 77% were confident. In total, 78% of men and 73% of women look to the future with confidence.
Households in Luxembourg are already feeling the impact of the coronavirus crisis on their personal finances: 61% of Luxembourg residents stated living more frugally than before. The coronavirus crisis has led 56% of respondents to feel more concerned about their financial situation. Meanwhile, 32% state having already had negative consequences of the coronavirus crisis on their personal finances.
Regarding emergency funds, 56% of residents will pay more attention to building one and 17% will have to tap into their emergency fund due to the coronavirus crisis.
Ingrid Ballesca, Lead Market Analyst at ING, commented: "Luxembourg households have always been frontrunners in savings compared to other countries. This is surely an advantage in the current crisis".
86% of respondents currently have savings in their household. Of those, 13% have less than a month's income; 17% have between one and three month's income. On the other side of the spectrum, 20% have more than 12 month's income in savings. "The basic rule of thumb is: emergency fund = 2 to 3 times your monthly income. I would suggest to every household to plan their finances based on an income-cost analysis and in such a way that systematic savings are possible. Ideally, a portion of the income can be transferred automatically to the savings account upon receipt of the salary", explained Ingrid Ballesca.
This survey was conducted in Luxembourg by TNS ILRES on behalf of ING Luxembourg. 500 residents aged 18 and older participated. The survey was conducted between 27 April and 4 May 2020.