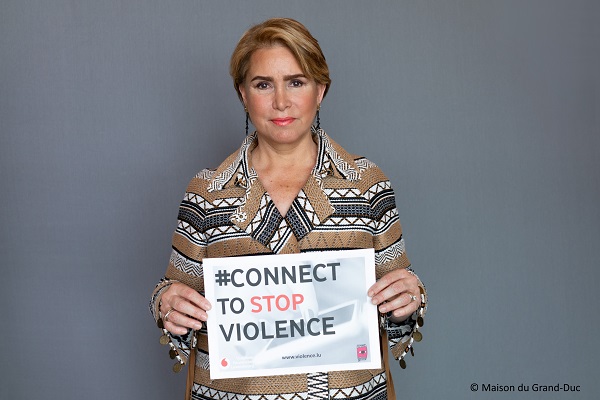 HRH the Grand Duchess of Luxembourg; Credit: Maison du Grand-Duc
Vodafone Foundation Luxembourg today announced the launch of a free app aimed at connecting victims of domestic violence and abuse to advice and support services across the country.
The new app, Bright Sky, which was created in partnership with Femmes en Détresse, was unveiled at a virtual launch event held on International Women's Day (8 March).
The launch of the app builds on over a decade of work by Vodafone Foundation using technology to support over 1.3 million people affected by abuse. Luxembourg is the latest country to launch the app, which is already live in the United Kingdom, Ireland, Italy, the Czech Republic, Romania, Portugal and South Africa.
Vodafone Foundation Luxembourg has worked in partnership with Luxembourg NGO Femmes en Détresse and the UK-based Thames Valley Partnership and Aspirant to create the app. Bright Sky enables users to locate their nearest support centre by searching their area or current location. The app is available in Luxembourgish, French, English and Portuguese. A short questionnaire will help users assess the safety of a relationship while also providing information about different forms of abuse such as sexual violence, stalking and harassment. The app also highlights the types of support available, steps to consider if leaving an abusive relationship and how to help a friend affected by domestic abuse.
Various coroporates in the Luxembourg have also supported the creation of this new app. For instance, Post Luxembourg is making data on the app free for its customers in the Grand Duchy.
Attendees at the virtual launch event this afternoon heard from Her Royal Highness the Grand Duchess of Luxembourg and Andrée Birnbaum, Director General of Femmes en Détresse, along with Rhys Shegar-Astoralli, Head of Vodafone Foundation Luxembourg, and Ana Pinto, a survivor of domestic abuse. Speaking on the launch of the app, the Grand Duchess said: "Combatting domestic violence is a cause that I strongly believe in. Throughout my life I have supported women in vulnerable situations. Lately I have particularly emphasised on fighting sexual violence in fragile zones. It is one of my main priorities in my work as well as the advocacy for change. I am pleased to see that the Vodafone Foundation Luxembourg and 'Femmes en Détresse' have united to launch this app at such a key moment!"
Rhys Shegar-Astoralli explained: "Domestic abuse is a societal issue, and we must accept this uncomfortable truth. We all need to be more open on this issue and confront it. I am proud that our Vodafone Foundation, together with Femmes en Détresse have launched this innovative app, to help in addressing the issue. The app will no doubt be a significant resource to those experiencing domestic abuse situations. We all need to work together to respond to this violence, by educating the public and, supporting the victims and dealing appropriately with the perpetrators".
Kim Frampton, Vodafone project lead, added: "Vodafone has a history of technological development, and through its Foundation, is focused on Connecting for Good. It has been amazing to work with Femmes en Détresse, collaborating with their expertise and our technology to deploy this app. At this moment, when we're all so physically distant from each other, it's been an incredibly positive experience to come together to provide another avenue of support for victims of domestic abuse here in Luxembourg".
Andrée Birnbaum concluded: "We are very proud to be part of the story of this app. It was a pleasure to work with the team of Vodafone Foundation Luxembourg. I believe the app is an important part of the big puzzle of prevention and awareness raising in the field of domestic violence and violence against women. The app is just the beginning and we're looking forward to joining forces to continue our efforts to combat all forms of violence".