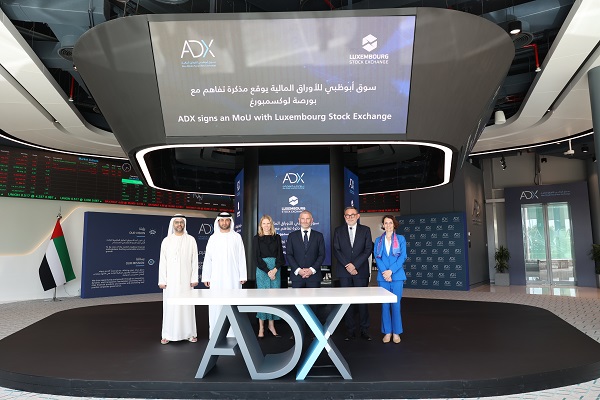 (L-R) Hussain ALShehhi (ADX); Mohammed ALMuhairi (ADX); Kay French (ADX); David Nevin (ADX); Carle Houblie (LuxSE); Chiara Caprioli (LuxSE); Credit: LuxSE
On Thursday 8 June 2023, the Luxembourg Stock Exchange (LuxSE) and the Abu Dhabi Securities Exchange (ADX) announced the signing of a memorandum of understanding (MoU) between the two parties.
The purpose of this MoU is to establish a framework of cooperation between the two institutions to facilitate the dual listing of a broad range of financial instruments, maximise access to European, Middle Eastern and international investors for the parties' respective issuers, expand pre- and post-listing services, provide access to training programmes to foster awareness around sustainable debt products and leverage environmental, social and governance (ESG) data to enhance issuer and investor engagement both in the Middle East and Europe.
Abdulla Salem Alnuaimi, CEO of ADX, said: "Forming partnerships and building relationships with exchanges is a key tenet of ADX's growth. Through this MoU we are forging deeper ties with LuxSE and demonstrating our ongoing commitment to collaboration, supporting sustainable finance, sharing global best practice, encouraging bilateral investments and broadening both exchanges investors' base of bond and sukuk issuers in ADX. We will continue to leverage its diversified product offering, active equity capital markets and extensive network to enhance liquidity and activity on our growing exchange."
"We are delighted to formalise our cooperation with the Abu Dhabi Securities Exchange through this memorandum of understanding. Cross-regional collaboration plays a pivotal role in creating interconnected and more sustainable capital markets and we look forward to working with our counterparts in the United Arab Emirates to create new opportunities for growth, innovation and sustainable economic development in the region," added Julie Becker, CEO of LuxSE.