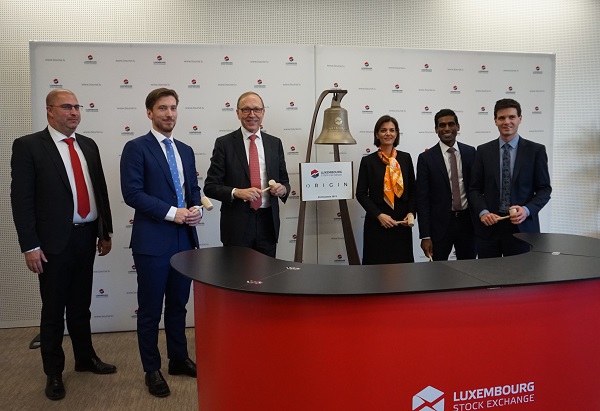 L-R: Laurent Pulinckx (LuxSE); Robert Scharfe (LuxSE); Robert Taylor (Origin); Julie Becker (LuxSE); Raja Palaniappan (Origin); Pierre Schoonbroodt (LuxSE); Credit: Jazmin Campbell
The Luxembourg Stock Exchange (LuxSE) and the FinTech company Origin today announced LuxSE's acquisition of a 10% stake in the London-based start-up.
The news was celebrated with a Ring the Bell ceremony on Wednesday afternoon at the LuxSE's premises in Luxembourg City. On this occasion, LuxSE hosted representatives of Origin, including CEO Raja Palaniappan and CTO Robert Taylor, who co-founded the company in 2015.
Origin, described by Raja Palaniappan as a "fully digital, front-to-back issuance platform", is set to transform primary markets by simplifying and automating the bond issuance process. As well as representing an important milestone in LuxSE's digital strategy, the stake creates visibility on both sides and that the work being done by Origin also reflects LuxSE's daily activities. These aspects were emphasised in the opening speech of LuxSE CEO Robert Scharfe this afternoon.
Robert Scharfe explained: "Digital workflows will simplify and drastically improve the bond issuance process, and we are convinced that a fully digital debt origination process will bring multiple benefits to issuers and banks. Origin offers an excellent alternative to some of the inefficient and manual processes that still exist in capital markets".
Mr Scharfe also highlighted the benefits associated with listing a security on one's own platform, namely serving as an "entry door" to a relationship with issuers and their origin countries. He added that LuxSE has been eager to "capitalise on new technology, wherever it makes sense" and that this partnership with Origin reflects its "willingness to [...] help shape the future of capital markets".
For his part, Origin CEO and co-founder Raja Palaniappan presented the origins of the company and the development of its three products to date: Marketplace; Documentation suite; Post-trade integration suite. The first product, the Origin Marketplace, launched in January 2017 and has been coined the "LinkedIn for the bond market" due to its manner of connecting issuers and dealers. The marketplace currently connects 85 issuers and 22 dealers from around the world.
The second product, Origin Documentation, helps automate the production of documents to save time on both sides. It is composed of a Termsheet Wizard, built in collaboration with users and which uses machine-readable tags, and a Legal Docs Generator. Finally, Origin Post-trade, considered the "Golden Source of Truth", creates PDFs and can send information digitally to any downstream entity. According to Mr Palaniappan, this "eliminates a lot of the manual, repetitive steps" of the process.
Despite these products already being live, they have so far been limited to bilateral transactions. Consequently, the next step for the company will be to enter global transactions.
LuxSE is the first institutional investor to invest in Origin. The two companies have established a strategic partnership that gives LuxSE strong governance representation in Origin and makes LuxSE the exclusive digital listing partner on the Origin platform. On the other hand, Origin will be able to capitalise on LuxSE's position as a leading listing venue for international debt securities, to expand its user base and grow its market share.
The proceeds from the LuxSE investment will be used to fund the ambitious growth plan of Origin. The young company has recently opened offices in Paris and Hong Kong and aims to double its headcount over the next twelve months. So far this year, debt instruments worth USD $20 billion have been originated on the Origin marketplace.