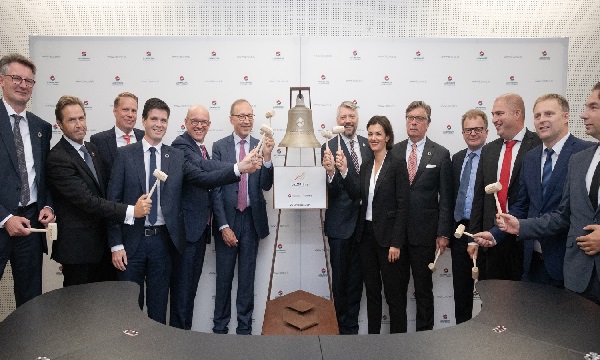 LuxXPrime launch; Credit: LuxSE
The leadership teams of the Luxembourg Stock Exchange (LuxSE) and EUWAX AG, a subsidiary of Börse Stuttgart GmbH, today announced the launch of LuxXPrime, a new window on the trading platform of LuxSE, dedicated to retail-sized bond trading.
LuxXPrime will combine the listing tradition of LuxSE, one of the world's leading listing venues for international financial securities, and the trading expertise of EUWAX AG and Börse Stuttgart, the German market leader for exchange-based trading in corporate bonds and the leading European exchange for securitised derivatives trading, thus leveraging the respective strengths of two well-established exchange institutions.
Robert Scharfe, CEO of LuxSE, explained: "LuxXPrime is a highly strategic initiative. By bridging our extensive bond universe and our stable and secure trading platform with the pricing capabilities and trading experience offered by EUWAX AG, we are providing more efficient and competitive investment opportunities to professional and private investors".
As the prime liquidity provider of LuxXPrime, EUWAX AG's role is to facilitate trades by acting as a possible counterparty for buyers and sellers of the securities included in the LuxXPrime selection. By quoting two-way prices and ensuring a high presence in the order book, EUWAX AG will allow investors to execute their orders on LuxSE at their own convenience. As an additional benefit for investors, all prices quoted on LuxXPrime are firm prices, meaning that the liquidity provider is obliged to execute the order at the published price.
In a first phase, the new trading window on LuxSE's trading platform counts 260 carefully selected and liquid bonds, representing 71 issuers from 9 countries, and includes twelve green bonds. The majority of the 260 bonds are corporate bonds. The LuxXPrime selection of bonds will increase in the coming months. Moreover, LuxSE and EUWAX AG are preparing the ground to include other financial securities, such as Exchange-Traded Funds.
While LuxSE is an established listing venue for international financial securities, LuxXPrime also forms part of the exchange's efforts to boost its trading activity and gain market share in its core markets across the Benelux region, France and Italy.