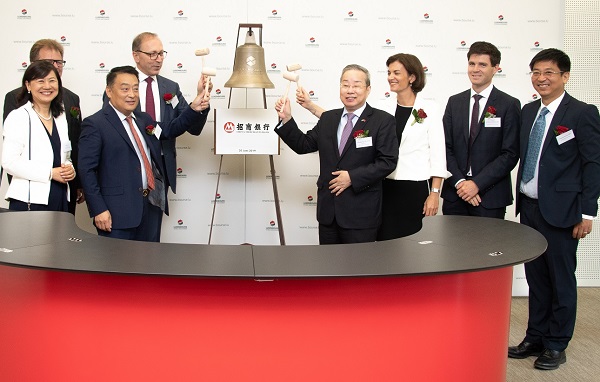 Ring the Bell ceremony; Credit: LuxSE
The Luxembourg Stock Exchange (LuxSE) today recorded China Merchants Bank's first bond listing in Luxembourg since 1997; the €300 million bond is the Chinese bank's first-ever listed Euro-denominated bond.
To mark this occasion, LuxSE hosted a "Ring the Bell" ceremony in the presence of His Excellency Mr Huang Changqing, the Chinese Ambassador to Luxembourg.
The three-year fixed-rate bond is issued under China Merchants Bank's US$5 billion Medium Term Note Programme and was listed on LuxSE's Euro MTF market on 20 June 2019.
Biao Li, CEO of China Merchants Bank's Luxembourg branch, stated: "This new bond issuance speaks of our global ambitions. In the future, green and sustainable assets financing and the Belt and Road Initiative are going to be the fields that we will continuously expand and develop. Given Luxembourg's leading position at the intersection between Chinese and European capital markets, the Luxembourg Stock Exchange was a natural choice".
In 2016, the Luxembourg Stock Exchange and China Merchants Bank signed a Memorandum of Understanding and agreed to cooperate on listing and trading activities of securities issued by China Merchants Bank and its clients.
Established in 1987 in Shenzhen, the Bank is China's first joint-stock commercial bank wholly owned by corporate legal entities. Since its inception, it has grown exponentially and now counts more than 1,200 branches and approximately 70,000 employees. The China Merchants Bank Luxembourg Branch was established in 2015 and acts as the bank's European headquarters.