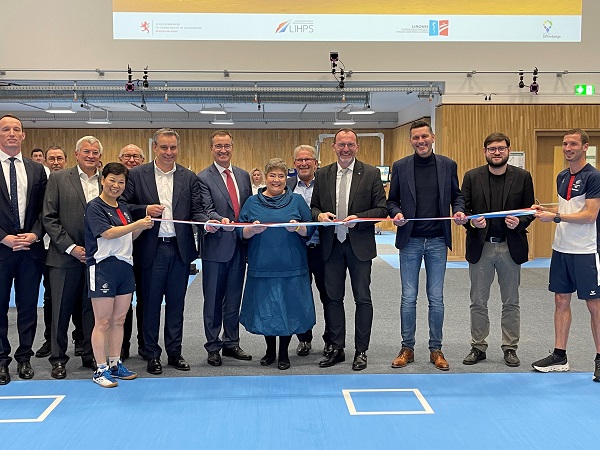 Credit: MSP
On Friday 25 November 2022, Luxembourg's Minister of Sport, Georges Engel, and the President of the Board of Directors of the Luxembourg Institute for High Performance in Sports (LIHPS), André Hoffmann, officially inaugurated the "SportFabrik" in Oberkorn.
This state-of-the-art infrastructure, born from a joint idea of ​​the Ministry of Sport, the City of Differdange, the Luxembourg Olympic and Sporting Committee (Comité Olympique et Sportif Luxembourgeois - COSL) and the Luxembourg olympic medical centre (Centre médical olympique luxembourgeois - CMOL), aims to place Luxembourg at the forefront of the sector in terms of measurement of movement analysis, injury prevention and return to sport among top athletes in Europe.
Managed by the LIHPS, in collaboration with its scientific partner, the Luxembourg Institute of Research in Orthopedics, Sports Medicine and Science (LIROMS), the biomechanical movement laboratory within the SportFabrik aims to promote high-level sport, medicine and sports science.
The main mission of the SportFabrik is to provide the Luxembourg sports sector in general, and elite sport in particular, with the highest scientific standards and cutting-edge research methods in functional biomechanics, movement analysis, motor control, motor function diagnosis, return to sport and injury prevention to help athletes achieve their best performance in the healthiest possible conditions.
An additional mission of the SportFabrik is to pursue the development and dissemination of its highly specific scientific knowledge through research projects, programmes or educational activities in collaboration with other sectors and ministries in Luxembourg but also at the international level.
Minister Engel welcomed the inauguration of this new biomechanical movement laboratory which, alongside the High Performance Training and Recovery Center (HPTRC), the second phase of which has just begun with the construction of the future recovery centre at D'Coque, constitutes an additional major pillar in the supervision of high-level athletes. The Sports Minister took the opportunity to thank all the actors involved throughout the process of carrying out this project.
"This innovative project is a real added value both for the development of high-level sport and for the research sector in Luxembourg. To enable Luxembourg athletes to remain competitive at the international level, we must guarantee them the same training conditions and methods as those enjoyed by their foreign counterparts", emphasised Minister Engel.